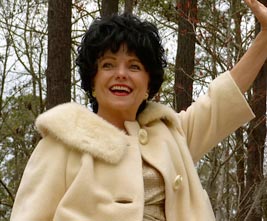 It's pretty rare for a singer/actor to get to play her lifelong artistic idol once, much less parlay that gig into a whole new show, but that's exactly what Maggy Norden, who's been said to "channel" Patsy Cline, has done.
 After appearing in sold-out performances of Always… Patsy Cline at USCB, Maggy, who lives with her husband Joey in Habersham, was asked by her neighbor to sing for tips at a Habitat for Humanity fundraiser. And then another neighbor asked if she could auction Maggy's skills for the Valentine Ball, throwing in a little story-telling about Patsy's life in with the music and, voila! A Date With Patsy Cline was born, and since then Maggy has performed it locally and in the Catskill Mountains in New York, with a stop in the Upper Peninsula of Michigan.
"I grew up loving Patsy's songs," Maggy says. "In fact, in Always… Patsy Cline, Louise Segar (who was played by director Gail Westerfield) said it best, upon hearing Patsy for the first time: 'That sounds the way I've always wanted to sing.' So it was serendipity that I was given the opportunity to portray Patsy in that show."
She went on to teach two OLLI classes – in character – in the past two years on the anniversary of Patsy's death. After one class, Maggy says, "a student told me afterwards that she was all set to ask me if I knew her friend, who had also competed on the Arthur Godfrey Talent Scouts as Patsy had in 1957. But then she remembered, 'This isn't actually Patsy Cline. It's an actress, Maggy Norden!'"
Friends started giving her books about Patsy's life, and Maggy couldn't get enough of he research. "I was hooked. Her short life was filled with hard work and heartache. She was incredibly tenacious. She didn't ever ask, 'What can you do for me?' She went out and did it herself. She was gutsy and brash and above all, real. She was loyal to a fault, even turning down opportunities if it meant hurting someone in the process."
So now the show, even more refined, will move to ArtWorks April 4-6, featuring 20 of Patsy's biggest hits and her life story, including her impact on country and pop music in the 20th century.
"I will take you from the Shenandoah Hills of Virginia where Patsy was born during the Depression," she continues, "to Carnegie Hall, where she performed at the height of her career. There will be audience participation, lots of toe-tapping and perhaps a few tears when you hear her most memorable hits," Maggy promises.
Maggy's thrilled to share the intimate portrait she's created "of Cline's tragically short life and how she became the reigning Queen of Country Music and the first crossover pop star.
"Patsy was a trailblazer for women in country music as well as pop. She was a solo artist at a time when men dominated the industry. Her determination and perseverance took her all the way to the top, and along the way she helped other artists: Brenda Lee, Barbara Mandrell, Loretta Lynn and Dottie West."
Even if you're not a huge fan of Patsy's music – yet – Maggy states confidently that "you will be after this show, when you experience the struggles and triumphs of one of the greatest American artists of all time."
If Patsy knew of Maggy's love for her and Maggy's hard work to pay respects to her idol, and she somehow appeared in Habersham for a hang, Maggy says she "would probably want to keep her all to myself and ask her what she thinks about the icon she has become since her death in 1963. I'd ask her some gossipy questions I'm curious about, too. But then, knowing how much she loved her fans, I would take her bar-hopping to all my favorite singing haunts around Beaufort and watch people be amazed by her talent."
You will be amazed by Maggy's talent April 4 and 5 at 7:30 p.m. and April 6 at 3 p.m. at Artworks. Tickets are available online at http://beaufortcountyarts.com/theater.htm or by calling 843.379.2787. Group discounts are available; call for pricing.