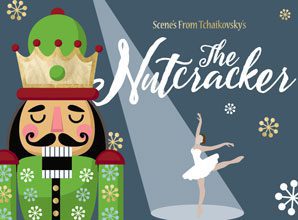 Another wonderful Beaufort holiday tradition unfolds this December with scenes from Tchaikovsky's Nutcracker performed by local ballerinas and guest artists at USCB Center for the Arts on December 13 and 14.  Beaufort's Community Nutcracker will be directed by Melissa Derrick, who a studied classical ballet in Brazil, South America for over 15 years and has taught ballet in Beaufort for just as long.
Auditions for the Nutcracker will be held at USCB Center for the Arts on Saturday, August 17 and August 24. 
Audition requirements include: Dancer please arrive 30 minutes early to register and warm up!
Dancers should wear leotard (of any color) pink tights, ballet shoes, and hair in a neat bun. Boys please wear gym short, plain t-shirt and socks if you don't have ballet shoes. Adults can wear leggings, shirt and ballet shoes or socks.  If selected, a $125 participation fee (fee covers costumes and instructors) will be required.  Some scholarships are available. Specific times:  9 -10am – Ages 5 to 7; 10:30 – 11:45am – Ages 8 – 11; 12:15 – 1:45pm -Ages 12 and older 
Registration forms are available online at uscbcenterforthearts.com.  For additional information contact beaufortnutcracker@gmail.com.