Classic British farce takes the stage at USCB.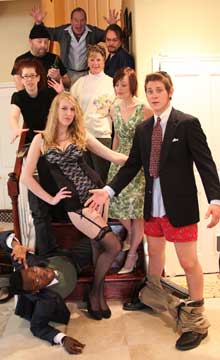 "We've got slamming doors, mistaken identities, cute British accents, a half-naked ingénue, men with trousers around their ankles, and pratfalls down a flight of stairs," says "Noises Off" director Gail Westerfield. "Oh, and sardines. Lots and lots of sardines. It's pretty much a perfect play!"
USCB Center for the Arts will stage the Beaufort Theatre Company production of the comedy April 6 through 14.
Gail, who directed a very successful production of "Love, Loss, and What I Wore" last month at Center for the Arts, is a lifelong fan of British comedic greats like Peter Sellers and the guys of Monty Python. She calls "Noises Off" her "dream project."
"Those guys and the Marx Brothers really formed my sense of humor," she says. "I love witty puns and double entendre, a good belly laugh, and exaggerated characters in absurd situations. That 'Noises Off' has all of that AND is about what happens on and off stage with a theater company, made me fall in love with it the first time I saw it, long ago in Denver."
The three act play begins at a late night final rehearsal for a bad British sex farce, "Nothing On." Egos, exhaustion, and a dearth of talent combine with a few poorly executed love affairs among the actors, director, and crew to create hilarious chaos.
In the second act, the set flips to allow the audience to see what goes on backstage when, halfway through the run of "Nothing On," everything that could go wrong, has.
"This is the most challenging act," Westerfield said, "and my favorite, because while it's insanely
exaggerated, it offers audiences a peek at what they can only imagine happens behind the flats while a play is going on in front of them. I'll just say that everyone in this cast and I have a little bit of experience with this sort of backstage zaniness."
The third act is back on the set again for the company's final production of its 12-week tour, which the stage manager unintentionally announces as the show's "last legs."
Romping through this British bedroom farce are seasoned actors from Beaufort, Sun City, Okatie and Ridgeland. Alan Purdy plays the frustrated and randy director, Lloyd Dallas, and his British accent is the real thing. Born in Britain, he moved to Canada as a child and began acting at age seven but quit when he moved to Bluffton in 1996. He came out of retirement when he saw the call for "Noises Off" auditions.
Brooke Ashton, an inexperienced but deadly earnest young actress from London, is played by Joellen Hirschey. Brooke's character in "Nothing On," Vicki, spends most of the play clad in a corset, garter belt and stockings on her five-foot, nine inch frame. Though Brooke may not be much of an actress, her stage presence cannot be denied! Joellen spent her high school years in Beaufort High's theater department, trained in New York City, and has acted in several local plays, most recently "Catholic School Girls" at ArtWorks.
Poppy Norton-Taylor is the put-upon assistant stage manager who might envy the flirtier Brooke, but who also carries a secret that could bring Lloyd's wandering eye to her permanently. Poppy is played by Shawn Sproatt, who was also in the cast of "Catholic School Girls" and "Love, Loss, and What I Wore." A graduate of the College of Charleston with a degree in Theatre, Shawn studied with "Second City" in Chicago.
The part of Dottie Otley, a fading comedic grande dame and a bit of a femme fatale, is played by Eileen Waite. Though Dottie can't remember her lines, her blocking, or what to do with the sardines, she thrives on the attention of several of the men in the troupe. Eileen's stage work began as a college freshman in New York; she's also taught English and coached theatre and public speaking. She moved to Sun City five months ago and auditioned for "Noises Off" after having directed a youth theater production of the play.
Jason Marion plays Garry Lejeune, an arrogant and inarticulate actor with a violent jealous streak. He believes nearly every man has designs on his paramour, Dottie, especially clueless Freddy. Jason lives in Beaufort and has acted since sixth grade, including in several area productions, and is pursuing an acting career.
Freddy Fellowes is an overly apologetic and none-too-bright actor, constantly questioning his character's motivations and Lloyd's direction, usually with a comb in his hand or his pants 'round his ankles. Eddie Watson, a Beaufort High School graduate, plays Freddy. Eddie acted in a number of the school's plays and is currently the lighting technician for USCB Center for the Arts. He plans to join the Air Force in the fall.
Christine Grefe of Ridgeland plays Belinda Blair, who begins the play as a remarkably cheerful if somewhat gossipy cast member; though she's very helpful, she makes it her business to know everyone else's business and she may not be as straight-laced as she seems. Christine has been on the stage since middle school and has appeared in several local productions. She auditioned for "Noises Off" because, after being an electrician for the play in college, she'd always wanted to act in it.
The character of Selsdon Mowbray, a boozy aging actor whose best days on the stage are far behind him, is played by Benji Morgan, who played the lead in "You're a Good Man Charlie Brown" at Center for the Arts. Benji has been in the theatre since his school days and performed in Greenville, Beaufort, and Bluffton.
Tim Allgood is the overworked stage manager of "Nothing On" who must follow every order from Lloyd, no matter how outrageous, including appearing on-stage as a double for Freddy and Selsdon. Dave Helmer, who plays Tim, has acted in some 15 plays and directed for USCB Center for the Arts' Student Theatre Group.
Assisting the somewhat less demanding Gail as the "Noises Off" stage manager is Erika Pyle, who settled in Beaufort after many moves as a "military brat." This is her first production with Beaufort Theatre.
In a charitable effort jokingly referred to as "Anything But Sardines," audiences are asked to bring non-perishable food donations to benefit HELP of Beaufort, a non-profit organization that helps feed Beaufort's needy. They especially need dry pastas, pasta sauces, ramen noodles, Hamburger and Tuna Helper, pork and beans, and mayonnaise. (And yes, they'll probably take sardines!)
Performances are at the USCB Center for the Arts Theatre at 801 Carteret Street on April 6, 12 and 13 at 7:30 p.m. and April 7 and 14 at 3:00 p.m. Tickets are $20 for adults, $18 for seniors, and $15 for students. The box office is open from 10 AM to 3 PM weekdays and one hour prior to curtain. For tickets and more information, call 843-521-4145.