'GOLF: The Musical' spoofs South Carolina's favorite sport.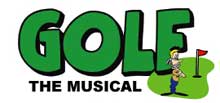 GOLF: The Musical, which has played to international acclaim since its Off-Broadway premiere in 2003, is on stage at the Arts Center now through March 30th. This hilarious Saturday Night Live-style musical spoofs everything about the game of golf.
GOLF: The Musical features songs and comic skits by Michael Roberts with direction and choreography by Christopher Scott. The show's material covers everything from each golfer's dream of being a "scratch golfer," and the lament of the great lady golfer whom no one recognizes, to a gospel revival song about Tiger Woods, an homage to Bing Crosby and Bob Hope, a man's love song to his "Big Bertha," a paean to miniature golf and more. The show even features a bit of audience participation in the form of a putting competition with prizes.
Composer-lyricist Michael Roberts, director Christopher Scott and the four-member company of Golf obviously has created a thoroughly delightful revue. The humor and jokes of the show are kept up-to-date, while the talented performers keep the revue moving at a lively pace. Audience members around the country have raved, even saying, "We never laughed so hard at a show!"
The final number, I'm Going Golfing Tomorrow, is a comical tribute to the addicting lure of golf among its loyal devotees who would forsake everything just to take a swing with that revered golf club. With a talented, Broadway-trained foursome of actors, this sharp musical celebrates the fun, frustration and elation of this addictive game; but you don't have to love golf to enjoy it!
Bring the whole foursome – and the spouses too — to see this zany production! Golf: The Musical runs now through March 30, with tickets only $39, which can be ordered by visiting www.artshhi.com or calling 843-842-ARTS or toll free at 888-860-2787.