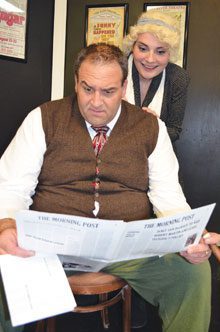 How many times have you attended a show expecting it to be about the title and by the time you left the theatre you, were still trying to figure out what the title had to do with the play at all? I have always been intrigued by the titles of Broadway plays. This was my thought when I first heard of The Drowsy Chaperone, May River Theatre's 16th season opening show.
Drowsy, the winner of 5 Tony Awards and 7 Drama Desk awards, has all the elements of a hilarious musical farce. It is a play within a play, crammed full of every cliché, gag and gimmick from the golden age of musicals.
The idea for the play was originally hatched when several friends created a spoof of old musicals for a party in honor of Bob Martin, one of the show's writers, and a friend, Janet Van De Graff. Don McKellar also collaborated on the writing and the music and lyrics are by Lisa Lambert and Greg Morrison.
Sitting in the director's seat is Travis Hornsby, director of last season's Young Frankenstein.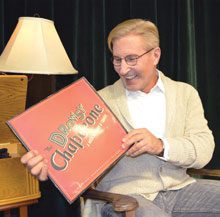 Travis' love affair with Drowsy has been going on for the last 6 years. Says Travis, "This is a show for theatre lovers and newbies alike. With nods to typical character archetypes, past theatre goer experiences, and musical theatre traditions. It not only engages seasoned theatre goers, but also seeks to amuse and entertain all of those sitting in a darkened theatre. Our would be narrator, Man in Chair, provides witty commentary while navigating his favorite record-yes, record- of The Drowsy Chaperone, a 1920s throwback to the days 'when champagne flowed while the caviar chilled and all the world was a party-for the wealthy anyway.' 
"I was introduced to Drowsy in college, cast as Underling, the stoic yet faithful butler. I didn't know that such a show existed with in the annals of theatre. It openly poked and jabbed at both the art form and the experiences of musical theatre.
.           "While standing backstage awaiting my entrance, I could hear the audience laugh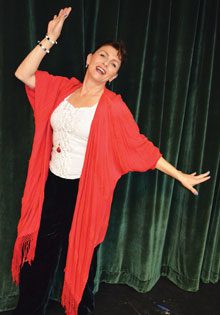 aloud and tapping their toes to the infectious tunes sung. Peeking through a small seam in the set I could see their eyes fixated on the stage, mouths gaping, hands clapping in thunderous applause. We, performers and audience members, were all participants in this comedic tribute to musical theatre.  I knew then that I absolutely HAD to do this show again. Fast forward 6 years and here I am continuing my love affair with The Drowsy Chaperone."
May River's cast includes: Michael Weaver, Man in the Chair: Mimii Molina, Drowsy; Jean White, Janet Van De Graff; Danny Bittick, Robert Martin; Stephan Brannan, George; Steve Mason, Feldzig; Catie Anne Mengel, Kitty; Andy Wallington ,Underling ; Gail Westerfield , Mrs. Tottendale, Saundra Woods , Trix and Robert Ryan , superintendent. Jonathan Boulon and Christian Osbourne are the gangsters and the ensemble includes Lindsey Brannan, Corrie Frohnapfel, Matthew Davey and Xavier Jackson.
The Drowsy Chaperone opens April 21 and will run through May 7, Friday and Saturday evenings at 8 p.m. and Sunday matinees at 3 p.m. at the Ulmer Auditorium at Bluffton Town Hall. The Drowsy Chaperone is presented with special arrangement with Music Theatre International.
Tickets for the show are available anytime on line at mayrivertheatre.com or by calling the box office at 843.815.5581 starting April 17th. Box office hours are 10 a.m. – 2 p.m. Mondays and Fridays. All reserved seats are $27.