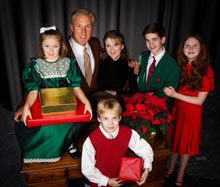 The University of South Carolina Beaufort and Beaufort Theatre Company will present the holiday musical Miracle in Bedford Falls on December 18, 19, and 20 at 7:30 p.m. and on December 21 at 3:00 p.m.
           Frank Capra's 1946 film It's a Wonderful Life gets a fresh and creative new life with this heartwarming musical production. Following the film's screenplay closely –including the same great lines! – the play tells the story of George Bailey, the genial Bedford Falls businessman who, in the depths of despair, discovers (with the help of his guardian angel Clarence) that his life gives meaning to the lives of those around him.
            The journey of the original story which gave rise to Capra's film – and this production – is a tale of redemption itself. Philip Van Doren Stern failed to find a publisher for his 1943 short story The Greatest Gift and instead turned it into an elaborate Christmas card that eventually found its way to Hollywood.
            It's a Wonderful Life now ranks among the American Film Institute's top 100 films.  The award-winning team of Mark Cabaniss, Lowell Alexander and Chris Miller collaborated to adapt this classic holiday screenplay for the stage.
            "This show is appropriate for any age and can certainly be enjoyed by a multi-generational audience, says director Debra Charlton. "It is truly a special opportunity to enjoy an evening with family, on and off stage. The same experience of community emulated in the film is found in our local cast. While we can boast numerous Broadway World nominees among the talent on stage, the cast itself represents a wide cross section of individuals from across Beaufort County with varying degrees of stage experience."
            Tickets for Miracle in Bedford Falls can be ordered online at www.uscbcenterforthearts.com or by calling the Center Box Office at (843)521-4145. Ticket costs: Adults, $25; Seniors, $20; Students, $15.