Sit back, relax and forget your troubles in the Kit Kat Klub, as the cast of "Cabaret" presents its unique take on one of the great classics of American musical theater.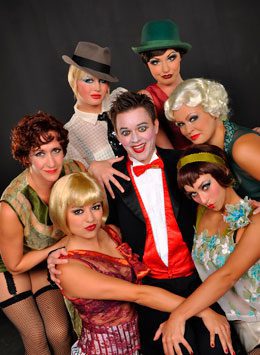 The Arts Center of Coastal Carolina launches its 2009-10 Tony Award-winning season with "Cabaret," which runs Sept. 30 to Oct. 25. The Broadway classic – winner of 12 Tony Awards, including Best Musical and Best Musical Revival – has been entertaining audiences for years with its jazzy score, dazzling choreography and deliciously decadent setting.
It's the early 1930s, and Germany is fast falling under the influence of the fascist Nazis. The well-worn Kit Kat Klub serves as a welcoming sanctuary for social rebels and free-spirited bohemians looking to escape the political turmoil that looms in Berlin.
It is here the young American writer, Cliff Bradshaw, meets and falls in love with the beautiful English headliner, Sally Bowles. But their relationship is jeopardized as they become caught up in Germany's growing political unrest. At the same time, Cliff's elderly landlord, Fraulein Schneider, finds herself in the middle of a doomed romance with Herr Schultz, a fruit vendor.
"The grittiness and darkness of the story is combined with lots of fun and frolicking," said Laura Beth Wells, who plays Sally. "And it doesn't hurt having a bunch of sexy Kit Kat girls parading around the stage."
"It will be naughty," adds Arts Center Costume Director Jennifer Correll, "but not vulgar."
Amidst the club's unrestrained revelry, life is beginning to change. The nameless emcee serves as a constant metaphor for the deteriorating state of society, the increasing influence of the Third Reich, and the social intolerance and prejudice it brings with it.
"He makes light of it," said Daniel Frank Kelley, who plays the tawdry master of ceremonies. "But as the story goes on, he can't escape the reality of what is happening."
Although this will be Kelley's first appearance in a production of "Cabaret," he worked with its original director, Hal Prince, on the first national tour of "Parade." The New York actor's credits also include a role in the national tour of another Kander and Ebb musical – "Footloose."
With the political maelstrom brewing outside the cabaret doors, the characters soon find it impossible to avoid its sway.
"It's fascinating to watch how people got sucked in," said Wells, who was recently cast in U2's highly anticipated Spider-Man musical being developed for Broadway. "You see it grow like a cancer. It's the loss of innocence."
Unwilling to give up her carefree ways, Sally refuses to recognize what is happening in Berlin.
"She closes her eyes to a lot of things," said Russell Garrett, who is directing his fourth show at the Arts Center. "She just wants to live her life and do what she pleases."

The iconic title song is a haunting anthem to her laissez faire lifestyle. What starts out as an upbeat invitation to drink wine, celebrate and make merry turns into a sobering realization of the frailty of life.
"It's powerful and entertaining," said Garrett, who previously worked with the Arts Center directing "Chicago" and "Beauty and the Beast." "The songs comment on the stories that are being told, but they're also fun vaudevillian numbers."
The juxtaposition of scenes with songs that are relevant to the plot was a novel concept developed by Kander and Webb, two of American Theater's most successful collaborators.
"It's a brilliant score," said John Bell, the show's musical director, who is making his Arts Center debut. "When you color it with the circumstances going on in the play, it takes on a whole new virtuosity."
The score, which includes such memorable numbers as "Willkommen," "Perfectly Marvelous" and "The Money Song," has a Germanic sound with the flavor of American musical theater jazz.
"What happens in the cabaret reflects what's happening in the characters' lives," said Bell. "We're seeing it through the eyes of the singers and dancers."
The Arts Center's season opener kicks off the new theater season. The musical will be followed by another Broadway classic, Lerner and Loewe's beloved "My Fair Lady," the Southeast regional premiere of "Boeing-Boeing," "Elton's John's Aida" and "The Who's Tommy."
Showtimes are 8 p.m. Tuesday through Saturday and 7 p.m. Sunday. There are matinees scheduled for Oct. 4, 11 and 18. New this year: The lobby will open an hour before curtain, and the bar will feature "Happy Half-Hour" drink specials.
Tickets for "Cabaret" are $47 for adult and $33 for child to a preview performance, and $51 for adult and $35 for child to a regular performance. Season subscriptions are also available. Visit www.artshhi.com to order online or contact the box office at 843-842-ARTS.