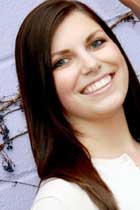 Megan Roberts decided to direct "The Vagina Monologues" while sunbathing with her best friend. Just a few months later, she is producing not just the play but a series of other Stop The Violence events which, like the play, endeavor to raise awareness in order to end violence against women and girls.
Roberts is a 19-year-old junior at USCB, majoring in human services, and an intern in the Student Life Office at the university.
How did you decide to do this production?
I had seen The Vagina Monologues performed three years ago in Ohio. I thought it was a fantastic play, but I never imagined that I would have the chance to direct it. At the beginning of last August, I stumbled upon the book in Kate Torborg's office and asked her to borrow it. My best friend Kristen will never forget the first time she heard about it because we were lying on the beach sunbathing, and I started reading out loud: "My Vagina's Angry. It is. It's pissed off. My vagina's furious and it needs to talk." She asked me what I was reading… and I told her I was going to do a production of it. I went into work the next day and told Kate I wanted to do it, and she said, "Yes!" She has been so supportive through this whole process, even when I doubted that it would ever happen. But it did! And here we are, and it's going to happen in three weeks. I couldn't be more excited and proud.
What do you like best about this play?
I love the contrast between humor and serious issues that it presents later in the play. It starts off being witty, asking the question, "If your vagina got dressed, what would it wear?" It then moves on to address more serious issues such as female genital mutilation, rape as a tactic of war, homelessness, and the devastating femicide happening in the Democratic Republic of Congo.
Can you tell readers a little bit about the casting process?
We put flyers up in January, searching for actresses. We had a surprising number of women respond, and at that point, I knew it was going to be a successful show. We had two days of auditions in front of our production crew. I thought that there would be a long, controversial discussion about which actress should do which part, but surprisingly everyone just fell into place. It is one of those things where you think it is going to be so hard to decide that when it isn't, you think, 'It must be fate.' I couldn't be happier or more excited about our cast. It is a fantastic group of strong women, and I love every one of them!
Tell me about the cast.
The age range is 18-62. Most have never been involved in a theatre production, but we do have a few that are very experienced. We have a very diverse group of women with countless different life experiences that we are able to share with each other. It really is a privilege to have such a wonderful group. Our cast includes students, staff of Hope Haven of the Lowcountry, USCB staff, and community members.
What should audiences expect when they see this production?
Audiences can expect to leave in awe. At the end of our first rehearsal, I didn't know what to say; I was speechless. I cried the entire way home, knowing that it was going to be an unforgettable three nights of performances. The actresses…are such powerful and strong women that I believe they can really make an impact on someone's life through these performances. During the performance, we will laugh together and cry together. I think they will leave feeling empowered and ready to take a stand for women.
What would you say to anyone who might be concerned that the play is full of man-bashing, or a huge downer, or too embarrassing to see?
We need you! It is very important for men to come see TVM because if we can get more men to support this cause, the more it will make an impact on generations to come. Not to mention, they could learn some helpful hints to please their partners! TVM is not meant to leave us crying for days. It is not a compilation of sob stories. It will leave you feeling empowered. Like you can do anything. It is a compilation of interviews with REAL women! Some were survivors of violence and some were not. They tell their stories of their first orgasm, their childhood, child birth, and how they emerged from their experiences as amazing, powerful women!
IF YOU GO:
You can see "The Vagina Monologues" at the USCB Performing Arts Center on Friday, March 26 at 7 pm. Tickets are available at the door, and are $6 for USCB students/faculty/staff, $8 for senior citizens (age 60+), and $10 for general admission. Doors open at 6 pm.
All proceeds will be given to Hope Haven of the Lowcountry, Citizens Opposed to Domestic Violence, and the V-Day Movement.
For more information about this production and other upcoming Stop The Violence events, contact Megan Roberts at 843.441.7436.