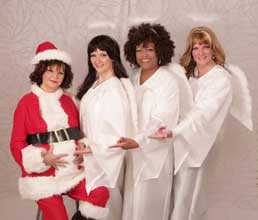 The wild women of last season's "Honky Tonk Angels" will reunite on stage at USCB Center for the Arts for their "Holiday Spectacular!" from December 19 to 22.
Returning to the scene of last year's hilarity are Sue Ellen, Darlene, and Angel-la. They plan a reunion at the Hillbilly Heaven Club in Nashville for a Christmas show which, as you can guess, has many unplanned twists and turns in this comic escapade. They also have a new friend to add to the fun, Charilee, a gospel-singing soul sister and psychic manicurist.
The show is full of musical medleys, classic Christmas songs and rock and country tunes with a special holiday twist. James Brown, Elvis Presley, Willy Nelson, Dolly Parton, Freddy Fender and the Beachboys are just some of the artists represented in the lively, toe-tapping musical revue presented by four very talented Beaufort entertainers.
Sue Ellen is the feisty, citified country girl who bought her nail salon with money she won in a lawsuit against her former employer for harassment. She's been married and divorced twice but is not as tough as she seems. She is played by Penney Smith, who has been appearing on Lowcountry stages for the past 25 years. Some highlights include, Chicago, Nunsense, Pump Boys and Dinettes, Little Shop of Horrors and Anything Goes. She was musical director for Always Patsy Cline at USCB, and is a vocalist for the Swingtime and Stardust Big Band Orchestras. Off stage she is the strings director for Beaufort County Schools.
Darlene is a young woman from the coal mining mountains of Virginia. She is the innocent one of the group – just a sweet, friendly girl who dreams of escaping to the big city and becoming a big star. Darlene is played by Elaine Lake, a seasoned performer who took 17 years off to raise two daughters with husband, Jason before returning as a backstage assistant at USCB a few years ago. Last year's "Honky Tonk Angels" lured her back in front of the curtain. Her long list of credits include leading roles in She Loves Me, The Boyfriend, Amahl and the Night Visitors, Arsenic and Old Lace and The Perfect Wife.
Angel-la is an earth mother trying to find herself. After the original "Honky Tonk Angels" gig she decided to leave show biz behind and go back home to her husband, Bubba, and their six children. At first, she wasn't going to join the others for the reunion but, even though she is now expecting twins, she decides to go. So, leaving the kids with her Momma and Bubba, she heads for Nashville. Angel-la is played by Velma Polk. A Beaufort native, she has sung professionally for over 15 years. She comes from a musical family which includes her sons, Donnie and Ben, and brother, Doug. Garvin.
Charilee was recruited by Darlene and Sue Ellen to replace Angel-la. When Angel-la shows up the three decide to keep their new friend whose psychic insights help them sort out their problems. Jan Spencer is a singer/songwriter who calls her singing style "smooth jazz." Since arriving in the Lowcountry from Detroit she has performed in many local and regional jazz clubs and at concerts and festivals. She is pioneering the new concept of "Lowcountry Parlor Jazz," with venues in private homes.
So pick your date, buy your tickets early and come enjoy these good ole country gals as they sing their way through their comic escapades as only women who live on the wild side can! They are accompanied by musicians Art Perry on keyboard, Bob Bielski on bass and Buddy Kosic on drums. The production is by Ted Swindley, creator of "Always… Patsy Cline," and sponsored by Tumlin, Levin and Sumner Investment Group of Wells Fargo Advisors.
Performances are at 7:30 p.m. on Dec. 19, 20 and 21, and at 3:00 p.m. on Dec. 22, at USCB Center for the Arts at 801 Carteret St in downtown Beaufort. Adults $20-25; Seniors$18-20; Students $10-15. Go to www.uscbcenterforthearts.com or call 843-521-4135. Tickets are also available at the door one hour prior to curtain.
Photo by Captured Moments