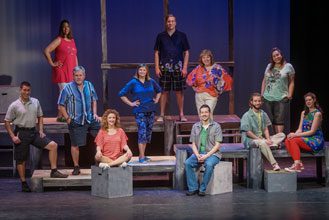 Beaufort Theatre Company will present the iconic and inspiring musical Godspell, March 12, 18, 19 at 7:30 pm and March 13 and 20 at 3 pm at USCB Center for the Arts.
Godspell was the first major musical from a young Stephen Schwartz, who went on to write such mega hits as Wicked, Pippin and Children of Eden. It features an eclectic blend of songs ranging from pop to vaudeville, including familiar classics like Day By Day, Prepare Ye The Way Of The Lord and By My Side.
Using a variety of games and storytelling techniques, the musical tells the story of Jesus's life and his eventual persecution through parables from the Gospel of Matthew. Dissolving hauntingly into the Last Supper and the Crucifixion, the play brings Jesus's message of kindness, tolerance and love vibrantly to life.
The show is directed by Libby Ricardo, who says she was initially apprehensive to to take on the project. "To be honest, I signed on later than most, and I wasn't sure I was up to the task. The material is, in my opinion, dense . . . and I worried that without adequate pre-rehearsal preparation, I could not do it justice."
In the end, Ricardo says, her insecurities were unfounded. "My cast, talented thoughtful and brave as they are, were able to make up for my deficits. The rehearsal process became about exploring our ideas about community. We shared our personal experiences, not just about religion, but about kindness, charity, humility and gratitude. We spoke about loneliness and shame. We worked together to create a show that honored the original production without negating the very important messages inherent in the material."
Godspell's Music Director is Anna Wheeler and the Choreographer is Gina Taramasso.   The cast includes Timothy Thompson as Jesus, Steyn Marke as Judas, with the Company composed of Noah Krepps, Angela Chancay, Greg Rawls, Elaine Lake, Susan Smith, Elizabeth Hargrove, Kelly Hall, Velma Polk and Daniel Bittick.
Show dates are as follows: March 12, 18, 19 at 7:30 PM and March 13 and 20 at 3 PM. Tickets are available on online www.uscbcenterforthearts.com or call the box-office at 843-521-4145. Ticket prices: Adult $25, Senior $20, and $15 for Student.