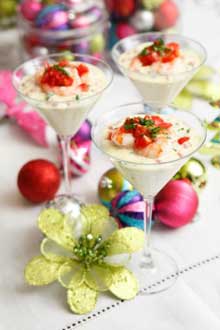 Your December wedding day was perfect! The ceremony was romantic. The flowers were gorgeous. The reception was wonderful. The food was amazing. The band was fabulous. The cake was delicious. The weather was beautiful. It all just went by too fast! With all of the effort that goes into planning a wedding, why should it end with the toss of a bouquet and a quick getaway?
Want to prolong the festivities? Host a post-wedding breakfast the next morning! Traditionally the bride and groom make a hasty departure at the end of their wedding reception to head off for the honeymoon. These days more and more couples who don't want to miss a moment of the fun and excitement are choosing to stay for one final party with family and friends.
The morning after breakfast doesn't have to be a fancy affair, it's actually best kept as intimate and informal as possible. Keep it small, limited to family, members of the wedding party and out-of-town guests. You're not expected to invited the entire wedding guest list. Newlyweds can use the event as a time to say goodbye to special friends and to spend a little more time speaking with each person individually. The trick is to keep things convenient for your guests. The location of the breakfast will depend on the weather and the type of gathering you are planning. Host the event in the dining room of a parent's home or a in friend's backyard. Try to keep the event venue near guests' hotels or the location where the wedding was held to prevent guests from getting lost. Keep things casual. Attendees should feel comfortable wearing their travel clothes.
At this point, your budget is probably spent. Save money and time by recycling wedding decorations and flowers as much as possible. Ask your wedding coordinator or a trusted friend or relative to take a few centerpieces used at the wedding back to the breakfast site. The Christmas season is a wonderful time to get married! There's no limit to the availability of decorations of every color. Use brightly colored balls and greenery to enhance the buffet or individual table settings.
As for the meal, offer guests a beverage as soon as they begin to assemble. Pass an hors d'oeuvre or two. Offer a buffet-style breakfast or serve a few casual courses – much like tapas. My recipes in this issue are perfect for a morning-after meal! Best of all, every one is easy to prepare. Serve a few items from the menu or serve them all!
Most importantly, don't forget to relax! A post-wedding breakfast is the perfect time to kick back and spend quality time with the people you love. Congratulations! (Photography by Susan DeLoach.)
Fountain of Youth
This is a fun sparkling beverage – and the perfect starter for a morning-after-the-wedding breakfast!
1 (48-ounce) bottle refrigerated 100% pomegranate juice
3 bottles Prosecco or sparkling white grape juice, chilled
½ cup vodka, optional
In a 2 large pitchers, combine pomegranate juice, Prosecco and vodka. Pour into champagne flutes or wine glasses. Serve immediately. Serves 15 to 20.
Cinnamon Bun Waffles
Easy and impressive! Use a waffle iron or a panini grill to make these tasty and sweet treats!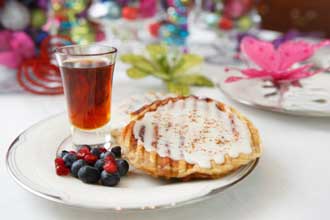 2 (12.4-ounce) cans refrigerated cinnamon rolls
Ground cinnamon
Maple syrup, warmed
Spray a waffle iron with canola oil cooking spray. (Be sure to spray the top and bottom very well — the cinnamon can be really sticky!) Place two to four cinnamon rolls on the waffle iron, allowing space for the dough to expand. Close and cook for 1 to 2 minutes. Remove and place on a serving platter. Repeat, spraying the waffle iron with cooking spray each time, until all cinnamon rolls have been cooked. Spread each waffle with icing (included in cinnamon roll can) and sprinkle with ground cinnamon. Serve with warmed maple syrup. Serves 16.
Berry Strata
Strata is a distinctively southern term not found in most food dictionaries. Similar to a bread pudding, this strata features juicy raspberries and blueberries. You may use two (8×8-inch) baking dishes instead of ramekins – just extend baking time to 45 to 50 minutes.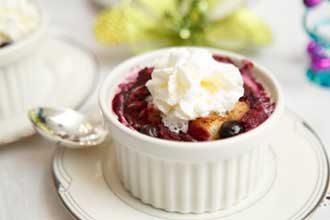 12 slices wheat or white bread, cut into small cubes
2 cups fresh or frozen raspberries
2 cups fresh or frozen blueberries
2/3 cup sugar
2 cups (8 ounces) shredded Swiss cheese
8 eggs, beaten
1½ cups milk
2 teaspoons vanilla extract
Ground cinnamon
Heavy whipping cream, whipped
Spray 12 (¾-cup) ramekins with canola oil cooking spray. Place cubed bread in the bottom of each ramekin. In a large bowl, combine berries, sugar and cheese; toss gently to mix. Evenly divide berries on top of bread in each ramekin. In another bowl combine eggs, milk and vanilla; mix well. Pour egg mixture over bread and berries. Sprinkle with cinnamon. Place ramekins on baking sheets, cover and refrigerate for 8 hours or overnight. Uncover and bake (on baking sheets) in a preheated 350 degree oven for 20 to 25 minutes or until a knife inserted near the center comes out clean. Top with fresh whipped cream. Serves 12.
Shrimp and Grits Martinis
This recipe is adapted from one of the most popular entrees on my wedding catering menu! Delicious and fun!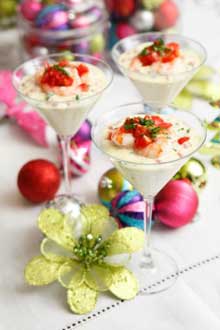 8 cups water
1 stick butter
3 cups quick-cooking grits
1 cup heavy whipping cream
Salt, to taste
Freshly ground black pepper, to taste
3 pounds shrimp, peeled and deveined
4 tablespoons butter
¼ cup all-purpose flour
1 (14-ounce) can chicken or vegetable broth
1½ cups heavy whipping cream
3 egg yolks, lightly beaten
½ cup grated Parmesan cheese
8 ounces diced ham or cooked bacon
½ cup chopped Italian parsley
Chopped tomatoes, to garnish
Chopped fresh Italian parsley, to garnish
Boil 8 cups water in a heavy stock pot or Dutch oven. Add butter. Slowly stir in grits. Reduce heat to medium-low and cover pot. Cook for 5 minutes or until thickened, stirring occasionally. Stir in heavy cream; season with salt and pepper. Remove from heat, cover and set aside. Cook shrimp in a large pot of boiling water until just pink and cooked through. Remove from water and set aside. Melt butter in a large saucepan. Blend in flour with a whisk until smooth. Add the chicken broth and whipping cream. Cook over medium-high heat until mixture thickens and bubbles, stirring constantly. In a bowl, stir one cup of the sauce into the beaten egg yolks, mixing well. Pour egg-sauce mixture back into saucepan. Stir in Parmesan cheese. Stir in cooked shrimp and ham; heat until warmed through. Remove from heat and stir in parsley. To serve, place a serving of grits in a martini glass, top with shrimp sauce and garnish with chopped tomatoes and fresh Italian parsley. Serves 12 to 15.
Creamy Eggs with Goat Cheese Crostini
Stirring a little goat cheese and fresh Italian parsley into lightly scrambled eggs adds a great new twist to a simple breakfast appetizer.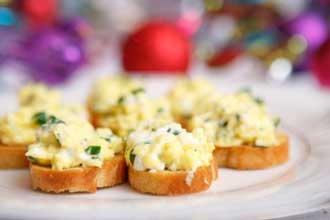 1 loaf French baguette
1/3 cup extra-virgin olive oil
12 eggs
½ cup light cream
2 tablespoons chopped fresh marjoram
Sea salt
Freshly ground black pepper
4 tablespoons butter
6 ounces goat cheese, softened
1/3 cup chopped fresh Italian parsley
Cut bread into ½-inch slices. Brush both sides of each bread slice with olive oil and place on a baking sheet. Preheat broiler; broil bread slices until lightly browned on both sides, turning them once. Remove from oven and set aside. Beat eggs in a bowl with cream, marjoram, salt and pepper. Melt butter in a non-stick skillet, add the eggs and stir over low low heat until they begin to set. Stir in the goat cheese and continue to cook briefly, still stirring, until cheese melts into the eggs. Stir in chopped parsley. Top each slice of bread with the egg mixture. Serve immediately. Serves 12 to 15.
Plantation Coffee
Brandy and Kahlua make this a fine southern breakfast coffee cocktail!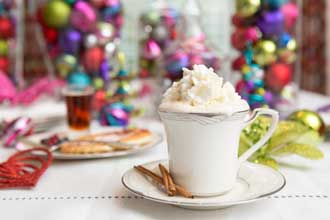 12 cups hot coffee
1 cup brandy
1½ cups Kahlua
Heavy whipping cream, whipped
Ground cinnamon
Blend the coffee and liqueurs together in a coffee decanter. Pour into coffee cups or mugs. Top with whipped cream and a sprinkle of cinnamon. Serves 12 to 15.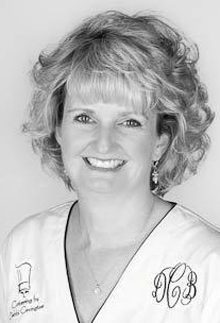 The writer owns Catering by Debbi Covington and is the author of two cookbooks, 2013 Gold Medal Winner of the Benjamin Franklin Award, Celebrate Everything! and Dining Under the Carolina Moon. Debbi's website address is www.cateringbydebbicovington.com. She may be reached at 525-0350 or by email at dbc@cateringbydebbicovington.com