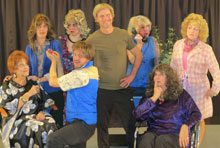 Celebrating their 5thyear of producing quality, local live-theatre, Coastal Stage Productions is proud to announce their CSP Theatre Season 2019 opener, The Hallelujah Girls. 
Created by Jones, Hope, Wooten the talented writers behind The Dixie Swim Club, the action in this rollicking Southern comedy takes place in SPA-DEE-DAH, an abandoned church-turned-day-spa. The hilarity abounds when five feisty females of Eden Falls, Georgia, decide to throw off their blues and shake up their lives. Set to be the first production in the new Coastal Stage @ AMVETS black-box playhouse, The Hallelujah Girls offers some of the most delightful and hilariously portrayed characters to ever hit the Lowcountry stage! 
As Sugar Lee Thompkins decides to reach for her elusive star by converting an abandoned church into a day spa, the SPA-DEE-DAH is born, and the fun begins thanks to Sugar Lee's dear friends Carlene, Nita, Mavis and Crystal.  The comedy thickens when her old high school boyfriend shows up, and Sugar Lee's life-long rival vows she'll stop at nothing to steal the spa building, away from her. CSP co-director Alex Clark says, "The Hallelujah Girls is another one of those shows that our audiences love. It reminds us of the importance of good times with friends, and of not taking life so seriously that we forget to laugh. You don't want to miss it!" 
The Hallelujah Girls will run March 29, 30, & April 5,6 at 8 pm and Sundays, March 31 and April 7 at 2 pm. COASTAL STAGE @ AMVETS, 1831 Ribaut Rd., Port Royal, SC.  Reserved Seating – $25, Group (10 or more) Reserved Seating – $22, At the Door – $27.www.coastalstageproductions.comor 843-717-2175.