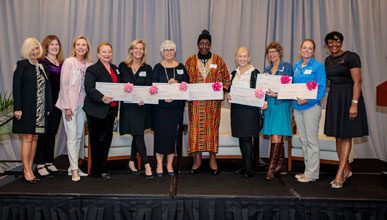 At its February event "Celebrating the Craft of Writing," The Women's Association of Hilton Head Island (WAHHI)announced Community Grants to 8 deserving nonprofit organizations.  
Since its founding in 1961, WAHHI has donated thousands of dollars to projects that benefit the community. Through the WAHHI Charitable Fund administered by The Community Foundation of the Lowcountry, WAHHI awards grants to local charitable organizations to support specific program needs that align with the core values expressed in WAHHI's mission statement: To facilitate communication among women, to encourage projects that benefit the community and to promote the natural and cultural beauty of the Lowcountry.
2020 grant recipients are:
Arts Center of Coastal Carolina with $1,500 for the Very Special Arts Children's Discovery Program, a unique visual arts education program for students with disabilities and their teachers for Hilton Head and Bluffton schools.  The children's work will be displayed at a culminating reception and art exhibition.
Heritage Library Foundation with $1,219 to enhance the experience for visitors of Hilton Head historic tours by helping to build out their wardrobe of costumes and accessories for volunteers playing historic figures and providing portable microphones and speakers for audio.
Coastal Discovery Museumwith $1,500 for two interns for hands-on "Critter" Exploration of Lowcountry animals program.
Hilton Head Island Sea Turtle Protection Projectwith$1,500 for a second sculpture to complement the 2019 Myrtle sculpture as a public reminder for LIGHTS OUT during turtle season
The Outside Foundation with $1,345 to purchase a tandem kayak, a single kayak, life jackets, and paddles for the Kids on Kayaks Program for Beaufort County 7thgrade students to experience the local salt marshes and tidal rivers.
Gullah Museum of Hilton Head Island with $1,500 for teaching assistance in Gullah quilt making which is a dying art from within the Gullah culture. At the end of the project, a community quilt will be made and displayed in Hilton Head. 
Hilton Head Island Audubon Societywith $870 to permanently restore their pollinator/butterfly garden from damage caused by draught by installing an irrigation system and replacing 30 wildflower plants.
The Children's Centerwith $1,120 for all children ages three to five to attend Gullah culture and nature field trips at the Coastal Discovery Museum and Mitchelville Griot's Corner.