The Columbia City Ballet from Columbia, SC will bring their first class production of The Nutcracker to the Performing Arts Center at University of South Carolina Beaufort for one performance only on Monday, December 14 at 7 PM.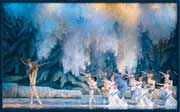 The State says of the production, "Artistic Director William Starrett's holiday classic is as refined as any big-time ballet company in New York or San Francisco."
Tchaikovsky's beautiful score, with its lovely waltzes and spirited mazurkas, brings to life the magical tale of Clara and her nutcracker as all the colorful characters of her dreams spring to life.
The Company, consisting of 35 professional dancers, will also utilize the talents of thirty six local children, ages 3 to 16. Filling the cast as anges, mice, cherubs, trumpeters, sugar plum fairy attendants and gingerbread girls are: Brittany Gates, Merritt Kerney, Nonie Yeager, Tammy Hudson, Megan Alverez, Kate Harper, Sarah Reynard, Emma Grace Dinkins, Walker Newman, Elizabeth Foster, Kristin Levesque, Katherine Ryan, Gracie Gecy, Kayla Johnson, Gracie Cunningham, Madeline McKnight, Madison Levesque, Janna Shissias, Ellie Ashmore, Abigial Davidson, Teri Ashmore, Hunter Kerney, Charlotte Freeman, Katherine Foster, Katie Ashmore, Ansleigh Pingree, Ruby Harrelson, Kennedy Lohmeyer, Celene Lampright, Makena Avichouser, Mia Tucker, Keating Reichel, May Harrelson, Naomi Salleme, Michaelynn Kopp, Kayla Astacio,
"I have to remember the children when I am working on this production—their innocent excitement of being a mouse or a party girl for the first time," said Starrett. "I try to use that energy to bring freshness when I work with the professionals. It really brings me into the holiday spirit."
Tickets are on sale now! Call the box office (843) 521-4145. Tickets are $40-35-30 and half price for children under 12 years of age. So call early to reserve. The box office is located at USCB, 801 Carteret St, Beaufort.