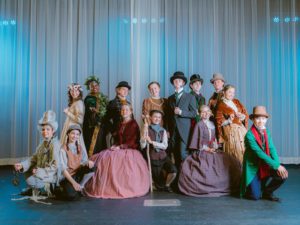 Hilton Head Christian Academy's (HHCA) award-winning theater department will present Charles Dickens' A Christmas Carol on December 3rd and 4th at the school's performing arts center on its new campus in Bluffton, SC. Tickets are on sale now at www.hhca.org/achristmascarol.
The classic holiday tale explores themes of redemption, love, and compassion as Ebenezer Scrooge transforms from a miserly, greedy, and lonely man into an empathetic and kind individual.
Directed by Michelle McElroy Cox, HHCA Theater Director, the production features an all-star upper school cast: Charlie Peirce (Scrooge), Dawson Taylor (Bob Cratchit), Christopher Nguyen (Nephew Fred), Harper Krimm (Ghost of Christmas Past), Briana Williams (Ghost of Christmas Present), Millie Gilbreath (Marley), Jack Mau and Annabel Court (Narrators), and many others.
Director McElroy Cox shared, "This timeless Dickens classic brings the spirit of an old-fashioned Christmas to the audience. Our students have worked extremely hard on the production this semester and we can't wait to share this Christmas classic with our community."
Showtimes are December 3rd at 7:00 pm and December 4th at 3:00 pm and 7:00 pm.  Tickets are $10 seniors/students and $15 adults and can be purchased at www.hhca.org/achristmascarol.
For additional information, contact Michelle McElroy at mmcelroy@hhca.org. Included with this release are selected cast photos. Additional photos are available by emailing mmcelroy@hhca.org.