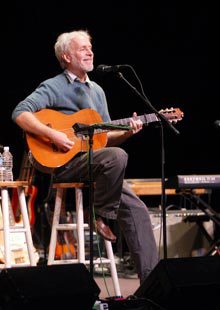 Couldn't make it to the Grammys? That's tough. But luckily, the next-best musical event will take place right here in the Lowcountry—this month! Fripp Friends of Music winds up its fabulous concert season with a stellar performance by one of the greatest musical talents of our time—many say all times—singer/songwriter Jesse Winchester.
Jesse takes the stage at the Fripp Island Community Centre at 5 pm on Sunday, March 25th.
If you've enjoyed country, rock or folk music over the past four decades you've undoubtedly heard this Louisiana native's top-ranked singles and maybe own one or two of his albums. As a master of vocals, guitar and keyboard, there's a lot about Jesse to like. The intimate Fripp venue is perfect for Winchester's performance style. With the artist almost close enough to touch, it's hard to beat Jesse Winchester perched on his stool, guitar in hand and an audience clinging to his every word and note. Jesse thrives in this club-like atmosphere, guaranteeing an incredible show.
For sure, you've tapped your foot to his music, even if you don't recognize it right off as Jesse's, because his wonderful songs have been recorded by so many famous artists, it's hard to keep track!
Jesse's work has contributed to the reputations of Jimmy Buffet, Joan Baez, Reba McEntire, Anne Murray, the Everly Brothers, Waylon Jennings, Randy Travis, Lynn Anderson, Peter Yarrow, Amy Grant, John Denver, Jerry Garcia, Lyle Lovett, Patti Page, Elvis Costello, George Strait, Wynona Judd, Wilson Pickett and Emmylou Harris, among a host of star performers who've recorded Jesse's music. Bob Dylan, another one of Jesse's admirers, famously declared, "Have you talked to Jesse Winchester? You can't talk about the best songwriters and not include him." Well, now you'll have the opportunity to follow Dylan's advice because one of the hallmarks of all Fripp Friends of Music concerts is an opportunity to meet and speak with the artist at the reception that immediately follows each performance. The Winchester concert is no exception.
When you see him in concert and meet him afterwards, you'll understand why Jesse Winchester is so revered among musicians. He is such an icon, that in 2007 the American Society of Composers, Authors and Publishers (ASCAP)—with a lineage dating back to Tin Pan Alley—recognized Jesse with its Lifetime Achievement Award! The Lowcountry is fortunate for this unique opportunity to hear Jesse sing his own music. You certainly know his songs sound good when performed by others, but they've never sounded better than in Jesse's own graceful, soulful vocals.
The Jesse Winchester Concert will be March 25th, 5 pm at the Fripp Community Centre. Tickets available only at the door: $20; $10 for students. Free pass for concertgoers at Fripp gate. Be sure to stick around and meet Jesse after the performance at the INCLUDED sumptuous reception by Harold's Catering! Fripp's own "Chef Harry" will prepare a special treat for all, as befits the final concert of the season. For more information, please call (843) 838-6655. www.islc.net/friendsofmusic/