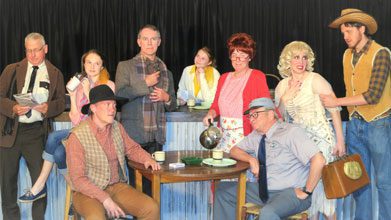 The second show of the Coastal Stage Productions fifth season, "Bus Stop," will be onstage May 24 through June 2 at its new performance venue, Coastal Stage at AMVETS, 1831 Ribaut Rd in Port Royal, SC. 
As a March (1955) snowstorm rages, five very different bus passengers are held over for the night in a Kansas roadside diner; challenged with trying to get along until morning. The colorful list of travelers includes nightclub performer, Cherie, (Julie Seibold) who is desperately afraid of her cowboy acquaintance Bo, (Mark Erickson) who has strong-armed her onto the bus toward his Montana ranch where he intends to marry her, Bo's level-headed sidekick and ranch hand Virgil, (Gregg Steele Heppner) and the slightly inebriated, yet strangely entertaining Dr. Gerald Lyman (Travis McKinley). Ferrying the diverse group is bus driver Carl, (Joe Ogiony) who frequently travels the route and secretly pines for the diner's owner.
Young waitress, Elma (Brycen Ambrose & Gigi Pingree) a naive and idealistic high school student and the diner's proprietor Grace, (Cheryl Graffo) hastily prepare to host the travelers. While Will Masters, (Brooke Pearson) the local sheriff who arrives for his nightly coffee, finds himself caught in the middle of the drama and action.
"Bus Stop" William Inge's timeless coming of age dramedy, is directed by Luke Cleveland with assistant direction by Christine Grefe.
Be sure to make your reservations early. CSP's most recent show "The Hallelujah Girls" was overwhelmingly received, with sold out crowds enjoying every laugh-filled moment. 
Performances are at 8 p.m. Fridays and Saturdays, with 2 p.m. matinees on Sundays. Tickets are $25 for reserved seating, $22 for group reserved seating, and $27 at the door. For more information and to purchase tickets, visit CoastalStageProductions.comor call 843-717-2175.