The City of Savannah's Cultural Arts Theatre announced that it will be presenting its summer "big stage" production of Once On This Island at the Trustees Theater, Aug. 1, 2, 3, 8, 9 and 10.
Once on This Island is a one-act musical with a book and lyrics by Lynn Ahrens and music by Stephen Flaherty.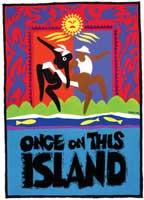 Based on the novel My Love, My Love by Rosa Guy, the musical is a retelling of Hans Christian Andersen's The Little Mermaid set in the French Antilles in the Caribbean Sea. Originally staged off-Broadway in 1990, the play was the winner of London's Olivier Award for "Best Musical," and was nominated for eight Tony Awards, including "Best Musical," "Best Book," and "Best Score."
Once On This Island is a jubilant Caribbean fantasy in which a young girl must prove to the mythical gods of her island that the power of love is stronger than death. It tells the story of Ti Moune (played by Brittany Hargrove) a peasant girl from one side of the island, and Daniel Beauxhommes, (played by Nick Bushkar) who is from a well-to-do family on the other side. As recounted by storytellers, Ti Moune pleads with the gods of the island to help her find true love, and the gods respond with a game of love, life and death, to see which is stronger. They devise an encounter for Ti Moune and Daniel, who eventually fall in love and, despite cries from their families and intervention from the gods, seek to prove that love will prevail. Social barriers and traditions prevent them from succeeding however, and a tragic tangle with the gods leads to a poignant ending.
"This musical explodes with music and emotion," said director DJ Queenan. "The set, costumes and dances are a vibrant feast for the eyes. This play is a summer-time treat for all ages, with wonderful calypso and reggae rhythms, singing by talented local performers and choreography by the amazing team of Muriel Miller and Nancy Holmes from Abeni Cultural Arts." Other players to watch include Ryan McCurdy as the evil Papa Ge, Demon of Death and Latrecia Lewis as Asaka, Mother of the Earth.
Trustees Theater is located at 216 E. Broughton St. Performances will take place Aug. 1, 2, 8 and 9 at 8 p.m.; and Aug. 3 and 10 at 3 p.m. Tickets are $17 general admission; $12 seniors and students. Tickets are available at the Trustees Theater box office, by calling 912-525-5050 or online at www.scadboxoffice.com. A service charge applies to phone and internet ticket purchases.