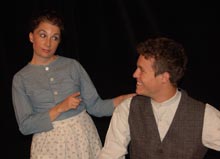 "Because what we do in the Black Box Theater is just a little different, we're taking something that is tried and true – done and done again – and we're going to put a new spin, 'our' spin, on it," director JW Rone said of the new production of the American classic, Our Town, opening at ARTworks June 2.
While virtually everyone is at least familiar with the concept of Thornton Wilder's play – "Daily Life," "Love and Marriage," and "Death and Eternity" – many may not realize how timeless the play – originally produced in 1938 – really is.
Producing partners Gail Westerfield, of Misspent Youth Productions, and Jenny and JW Rone, of Palmetto Theater Experiment, first thought of the play in conjunction with Beaufort's 300th birthday when they were planning the 2010-2011 season.
Rone says the play was a good fit for the tricentennial celebration because "there's something about the rural nature of the story that is so familiar to our small-town reality. I think that rural-ness, the home spun plainness of humans who are focused on life, marriage, and death, is so universal. Though it is set in the Northeast 100 years ago, the play really relates in the South because so much of the South is made up of those small rural towns. It's a classic piece of American theater that is so well-constructed that sometimes it just amazes me as I see it start playing out."
Westerfield plays the Stage Manager in Our Town and said she finds "the language so moving. Especially the things that I get to say – lucky me – and of course Emily's last speech and Editor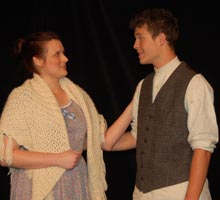 Webb's talk with the audience. It's like American Shakespeare. I've been surprised at a few people who, when I said Our Town would be part of the season,  said, 'Ugh. That play,' with an eye roll. That's so crazy to me because  I have always loved it, even as a kid. I suppose those people may have seen mediocre productions, but Edward Albee, who's a brilliant playwright and a hero of mine, called Our Town 'the greatest American play ever written,' and I completely agree."
Eliott Chucta, who was most recently seen in Suessical the Musical as Horton the Elephant, plays George Gibbs.  Asked to compare that experience to Our Town, Chucta notes that the 27 member cast ranges in age from 10 to 82 years old.
"It's a really huge step to step from a musical – which is what I usually do – to a "straight" (non-musical)  play. It's an awesome step to go from children's theater to adult. It moves a lot faster … you're with people who really are not beginners, and it's really cool to work with people who know what they're doing."
Chucta recently turned 17, as George is about to in Act 1 of Our Town. He has spent 14 of those years in Beaufort and compares it to the play's setting of Grover's Corners, New Hampshire. "Everyone knows each other. It's hard to go someplace where you don't see someone you know, and it's hard to get away from what you are and who you are. The Stage Manager talks about how things are coming into town, and things are changing, and Small Town America is disappearing. Less and less of it exists. Beaufort isn't the same as it was even four years ago. There's a visible change in the town throughout the show and in 'our town' of Beaufort as well."
At the same time, Chucta adds, the play is an enduring, "real piece of Americana. It takes place about 100 years ago, and puts it now. You can identify with at least one of the characters in every scene and none of them are just flat: each character has their own soul and meaning."
Jenn Shand, who works with Beaufort Children's Theater and directed "Suessical," is a Northerner who says she can relate to her character – George's mother, Mrs. Gibbs – and her "Yankee reservedness."  She calls Our Town one of those enduring stories that never loses its resonance. No matter what time it first took place or what time it is now, it hit a nerve back then, it hits a nerve now, and it will into the future."
Carrie Freeman, who was part of the ensemble for ARTworks' most recent play, The Dining Room, plays Mrs. Webb and is also real-life mother to Abigail Freeman, who portrays Rebecca Gibbs. Freeman feels audiences will love Our Town because, "especially in the times we live in now, it gives people an opportunity to reflect on life and what the really important things are. They can take a step back and look at a time before we had everything so instantaneously like we do now. There are some great moments in the play for that reflection."
And if that's not reason enough to see the play, ten-year-old Abigail adds, "It's fun and joyful."
If You Go:
ARTworks is located at 2127 Boundary Street in Beaufort, in the Beaufort Town Center Plaza (near Bi-Lo and K-Mart and next to OMNI Gym).
Performances are June 2 – 4 at 8pm; June 5 at 3pm; June 9 – 11 at 8pm; and June 12 at 3pm.
Tickets are $15 general admission, $10 for students ages 13+, $5 for children ages 12 and under, and $10 each for groups of ten or more. June 2 and 9 performances are "Pay What You Can."
Tickets can be purchased by calling the ARTworks box office at 843.379.2787 or online at www.artworkinbeaufort.org