BHS drama students take to the stage at Piccolo (and at home)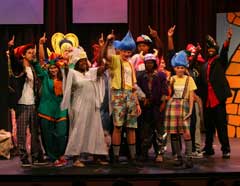 Last October, the junior-year drama students at Beaufort High School performed, "The Seussification of Romeo and Juliet" for surrounding schools for CAPA donations.  During that time their teacher, LaRaine Fess, read an article about a local man named John Bauer who was suffering from stage 4 liver cancer.
"My students decided they would like to donate money to his trust funds for his children so we dedicated an evening performance to him," says Fess.
"As a teacher, I was moved by their generosity and concern for this man and his young family," she continues.
So moved, in fact, that Fess applied to perform the show at Piccolo Spoleto as a headliner.
"I felt like my students were demonstrating a professional attitude, and I wanted them to have a professional opportunity.  Our Gingerbread Theater is dedicated to children and their families.  Our motto is "a family can eat dinner at 5:30 see a show at 6:30 and the kids are in bed by 8."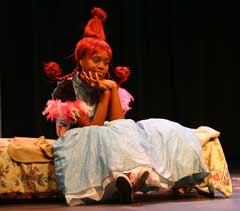 The theater committee of Piccolo approved Fess's application. And so it is that the Beaufort High drama students will be performing at the Sottile Theater, 44 George Street, in Charleston June 11,12 @ 6pm and 13th at 3pm. The cost is $8 for children and Seniors and $11 for adults.
But you don't have to drive to Charleston to see this colorful production, according to Fess. Her company is performing a "kick off show" for the Beaufort community to help raise funds for the Charleston production.
"My Drama II students wanted to help out their classmates so they are performing 'Jack and the Magic Beans' too.  They will perform first, then we will have a 10 minute intermission and then 'The Seussification of Romeo and Juliet' will be next.  So the audience will see two shows for the price of one!"
"The Seussification of Romeo & Juliet" (with "Jack & the Magic Beans") will be performed on Wednesday, June 9th at 6 pm in the Arts Center at Beaufort High. Admission is $7.
On a sad note, John Bauer passed away just as this article was going to press. "He was a wonderful man who has left behind five children," say Fess. "We are performing this show on the 9th in his honor and our Piccolo tour will be dedicated to him, as well."