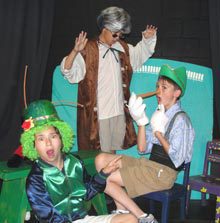 Welcome One and All to the classic tale of "Pinocchio"!
Lady's Island Elementary has integrated this well-loved story from literature, adapted for younger audiences by Disney animators and retold by Kathryn Schultz Miller for Children's Theatre. The story is a character lesson in behavior and consequences – about being brave, unselfish and  truthful.
The cast consists of 45 auditioned third and fourth grade drama students directed by Lynda K. McLain, and a group of talent seconded grade dancers (LEAP) choreographed by Lisa Howard.
Show date is Thursday June 2nd at Lady's Island Elementary at 6:30 pm in the Osprey Café. Tickets are $3.00 for 12 years-Adults and $1.00 for students 4-11yrs old. Please contact 322-2240 for more information.