The Backyard Tourist Sails on Stranger Tides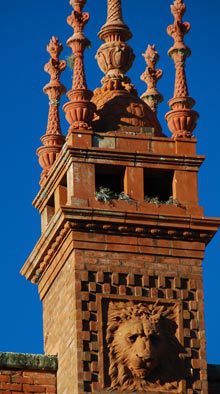 The way I figure it, St. Augustine owes a debt of gratitude to the Lowcountry of South Carolina. Let's face it: if things had worked out well here for the Spanish settlement of Santa Elena on Parris Island, St. Augustine might just be another condo-rina on the Intracoastal Waterway and things might be a bit more…quirky around here.
Since I first set foot in "America's oldest city" last January, I've been searching for a way to conjure up the vibe. It's not easy. There's a lot going on here from a basic coastal tourism perspective.  Some of eastern Florida's best beaches and golf courses are just minutes from the time worn cobbled streets of The Old City. Water sports, fishing and boating opportunities abound with easy access to the San Sebastian and Matanzas Rivers, the Intracoastal Waterway and the Atlantic Ocean. Believe it or not, The Fountain of Youth is a stone's throw from Ripley's Museum. In fact, the town is practically lousy with museums of all types spanning culture, history and kitsch.
Occasionally an attraction hangs around until it transcends time and status. Just across th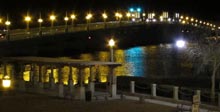 e Bridge of Lions on Anastasia Island, The St. Augustine Alligator Farm is a bona fide piece of Floridiana, famously entertaining tourists with giant reptiles since 1893. This means that people were paying to gawk at gaters here well before Teddy Roosevelt's Rough Riders charged San Juan Hill.
This is St. Augustine in a nutshell – still unique and vibrant yet soaked in four and a half centuries of history, much of it violent, some involving a fair measure of swashbuckling and nearly all of it colorful. If Charleston and Savannah are prim spinster sisters – the Grand Dames of Southeastern coastal culture – St. Augustine is the dashing older cousin, the one who makes all the girls blush. He's the one with a pencil thin mustache who plays cards, sports a hip flask, drives too fast and relishes the occasional bar brawl, always with a unique sense of character. To risk beating the analogy senseless, St. Augustine's a lot like the cousin who always manages to get you into to trouble, but whom you hate to leave behind and can't wait to see again – the fun cousin, the one who taught you how to drink beer.
The Tycoon and Don Pedro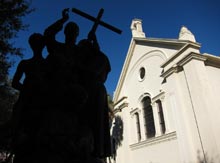 The great Spanish Admiral, Don Pedro Menendez de Aviles, came ashore at the Timucuan Indian village of Seloy with 600 soldiers, settlers and much fanfare in September, 1565. Needless to say, as soon as the trumpets fell silent life changed for the locals. Don Pedro still looks out over his city, or at least his likeness does, high on a pedestal in front of the former Alcazar Hotel, now city offices and The Lightner Museum. The Admiral's gaze is fixed on another former resort across the street. The Hotel Ponce de Leon opened its doors in 1888 as the centerpiece of tycoon Henry Flagler's plan to transform sleepy old St. Augustine into "a winter Newport" for his wealthy industrialist pals. Ultimately Flagler's plan failed, but his vision remains – as does he. Today the Ponce is the magnificent cornerstone of Flagler College, complete with its gilded rotunda and priceless Tiffany stained glass windows.
The tycoon is buried nearby with his wife, daughter and granddaughter in a mausoleum in Memorial Presbyterian Church – another exquisite reminder of Flagler's failed vision. Nonetheless, even as Flagler himself is now a relic in a city filled with ghosts of The Golden Age, his influence endures in each sunset reflected on the elegant red tiled rooftops he left behind.
Who's on first?
It's only logical that in a town billed as "America's oldest city" there is a damnable amount of history to wade through. So, we'll skip that for the most part. The number of museums and "museums" is simply overwhelming. Indeed it seems as if nearly every building bears the designation "Oldest" or "First" as in The Oldest House, the Oldest Wooden Schoolhouse, or the First Farewell Tour (I think it was The Who's Sod off, New World Tour, circa 1576).
The point being, there are museums and even more "museums." Choose wisely. None of them are free and it could take months and hundred of thousands of dollars to hit them all.
If your tastes run more toward wax figures of British royals and Star Wars characters, chances are
Castillo de San Marcos – the old Spanish fort guarding the mouth of the inlet – won't peak your interest and Potter's Wax Museum is a must. Like museums and places of historical significance, the number and types of tours are mind bending. Two trolley lines – Old Town and Ripley's – run day and night throughout the Old City making frequent stops. A three-day pass goes for around twenty bucks and combo packages and parking deals can be included. There are also guided and self-guided walking tours, carriage tours, water tours, the inevitable roster of ghost tours and a seemingly endless list of combinations and variations thereof. Keep in mind that St. Augustine is a brilliant walking city. The trolleys make good sense for those visitors on a tight schedule or who have difficulty walking – and most of the pedestrian byways in The Old City require a certain degree of sure footedness.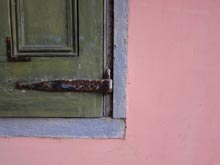 Whatever your choice, the smart place to get your bearings along with a good map and some excellent advice is the St. Augustine Visitor Center on South Castillo Drive near the Castillo. Phone ahead for information and directions at (904) 825-1000. Plenty of parking is available nearby in the cleverly designed municipal parking garage.
Eat, drink, sleep, repeat
Truth be told, none of this is why I came to St. Augustine. I came to escape, hear some music and maybe buy a hat.
My wife, Susan, and I first roll into St. Augustine with the blush still fresh on the New Year. Within
mere moments of setting foot on St. George Street we find ourselves sipping beers, listening to live music and watching the rest of the world peer through the gates of our courtyard refuge. We are lured Pied Piper-like into the courtyard bar of the Mi Casa Café by a guy playing guitar and doing fare justice to Simon & Garfunkel's "The Boxer." The brand new proprietress, a dynamo named Marnie with a pile of flaming red hair, tells us her sandwiches are so good customers have been known to spontaneously dance for joy after the first bite. We stick with the beer. A pattern is soon established.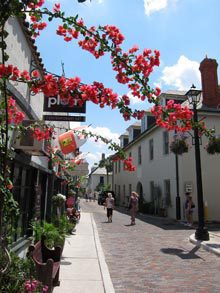 Over the course of the week we come to understand why so many of our friends consider this place so special and why some of them claim St. Augustine as their own.  It doesn't take long to fall for the place, but to do so means getting off the beaten path, and that beaten path is St. George Street. Even in the off season this pedestrian thoroughfare is often a crush of people, a constant ebb and flow of human eclecticism – tourists from all over the continent and the planet mingle with shopkeepers, street performers, activists, indigent musicians, and all sorts of characters.  A tall lanky fellow sporting a T-shirt emblazoned with "Reptile Rescue" sports a pair of live boa constrictors writhing around his arms and the message "Help stop dumping unwanted wildlife."A few blocks away it's hard to miss the Hulk Hogan impersonator decked out in primary colors a la Hulk circa 1988. The boa wrapped around his neck is bright pink and made of feathers.
Here and there groups of historical re-enactors pick their way through the throng in elaborate period costumes with enormous hats and wigs – lords and ladies, soldiers and scalawags and someone made up like Jack Sparrow. All around is the cacophony and gaudy commerce of a pumping artery dependent upon the flow of tourist dollars for survival. This roving carnival runs from the Old City Gates and eventually spills out near the plaza in the shadow of the Cathedral Basilica, a perfect place to seek respite from the masses (as it were).  Each June the Cathedral's exceptional acoustics are showcased during the St. Augustine Music Festival, a celebration of classical composers spread over two weekends and free to the public (see the sidebar).
Cross the shaded canopy of the Plaza de la Constitución and King Street to the south side and explore
the more laid-back gallery district, peaceful backstreets and hidden alley ways. The newly renovated Aviles Street is as quiet and charming in its Old World appeal as St. George is chaotic and occasionally cheesy. Grab a bite to eat at one of the cafes, under an umbrella on the street.  Madre's Baja Tacos seems a bit out place with its West Coast surf theme, but the bar's as laid back as it gets and the local crab cake tacos qualify as food of the gods. Two doors down La Herencia Café is locally famous for slinging hangover-killing Cuban breakfasts all day and serving up hot Latin dance moves in the evenings, with salsas, and mambas occasionally spilling into the street. Next door the wine bar Cellar 6 specializes in flights of fine wine, cheese plates, bistro fare and the official beverage of St. Augustine, house made sangria.
Wine before you walk
Our first visit coincides with the inaugural First Friday Artwalk of the New Year. We take the advice of friends and hoof it west up King Street to the San Sebastian Winery where we briefly consider a tasting (line's too long) before hopping the elevator to the rooftop and The Cellar Upstairs. The winery was founded in the mid 1990's in one of Henry Flagler's old East Coast Railway buildings. Historians credit this area as the birthplace of American wine dating back to 1562 with the first vines most likely planted by missionary priests and the first fruit of those vines also most probably consumed by those very same priests.
Today San Sebastian Winery has racked up more than 300 awards of excellence and moves just under a million bottles of wine each year. The Cellar Upstairs offers both indoor and outdoor seating, a full bar, an eclectic schedule of live music and panoramic views of the winery's namesake river and the city. It is also ground zero for First Friday, the place to relax with a glass of Castillo Red or Blanc Du Bois before wandering out in an attempt to expose oneself to culture.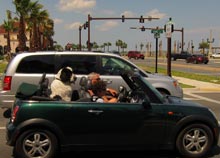 About 20 galleries spread out over five areas make up the Art Galleries of St. Augustine (AGOSA). During First Fridays nearly all offer some sort of live entertainment and refreshments while they last. Old Town Trolleys offers free trolley service from King Street between 6 and 9 p.m. The train loops through all five districts with stops every fifteen minutes, an easy solution to getting around to some of the harder to find venues. Make sure to end up near Aviles Street as the evening winds down. The lamplight transports these narrow byways back in time often to an eerie effect. Who's to say if all these costumed re-enactors roaming the cobblestones are what they seem to be? A bartender tells us the tale of a man snapping off shots with his digital camera from the door of a bar on St. George Street during a summer downpour. Back in his seat he starts to review his photos when, says Bartender Tom, "He just turned white and showed me the camera." There on the screen, claims Tom, a group of period costumed specters float translucen
t through the rain. "The street was absolutely deserted," Tom guarantees.  "Not a soul out there.  So to speak."
To Be Continued….
St. Augustine: The "To Do" List
We've compiled this brief list with the help of some close friends who are frequent longtime visitors and former residents of St. Augustine. No golf courses or beaches, just some suggestions on how to spend some quality time in America's Oldest City. Enjoy.
See/Do:
Flagler College – Tour the grounds and marvel at the former Ponce de Leon Hotel. Possibly the coolest pool in higher education.
The Lightner Museum – In the former Alcazar Hotel across from Flagler College. The museum houses an amazing "collection of collections" from The Golden Age. The courtyard koi pond is mesmerizing and free.
Potbelly Cinema – (behind The Lightner) cheap, great old quirky movie house filled with collectables and memorabilia. Serves beer.
The Alligator Farm – Two words: giant crocodile. Yeah, they've got gators, too. And more.
Fort Matanzas National Monument – Just south of the city. A great reminder of the Spanish settlement link between Beaufort and St. Augustine.
The Castillo – Stroll the coquina stone battlements guarding the mouth of the inlet and imagine…
First Friday Artwalks – Expose yourself to art and visa versa with complimentary wine and cheese.
Tour the churches – St. Augustine's churches are beautiful and unique. Begin or end at the Cathedral.
The Lighthouse – Not as old as Hunting Island (1874 compared to 1859) but more than 30 feet taller. Includes a wonderful museum in the former Lightkeepers House.
Eat/Drink:
American Legion (now smoke-free) – Great location near the Bridge of Lions. Cheap drinks, pool tables, interesting characters and convenient to everything.
A1A Ale Works – Right off the plaza by the bridge. Good food and great locally brewed beer with a killer view from the balcony. Live music at night.
Taberna del Gallo – Spanish tavern, circa 1700's, part of the Colonial Spanish Quarter House Museum. Basic bar offerings with beer and sangria, but great sangria.
Sangria's Tapas Bar – Overlooking the corner of St. George and Hypolita. Outstanding Sangria and a great perch for people watching.
The Columbia Restaurant – Across from Sangria's. Authentic Spanish cuisine and atmosphere. The original in Ybor City is more than a century old.
The Athena – On the north side of the plaza. A longtime locals favorite. Intimate dining. Great Greek food.
The St. George Tavern – Classic locals dive bar. Still smoking, but the drinks are big and cheap.  Regulars may break out into the occasional sea shanty.
The MillTop – If the Swiss Family Robinson built a bar it would probably look like this: open air and in the treetops. Our top pick for live music in The Old City.
Coming up Next Issue:
The Life Behind Bars guide to drinking (and eating) in St. Augustine.
A Truckstop Honeymoon in the treetops
A conversation with organizers of the St. Augustine Music Festival.
How to buy a Panama hat.
Web Resources:
IN LOWCOUNTRY WEEKLY
Read about the St. Augustine Music Festival