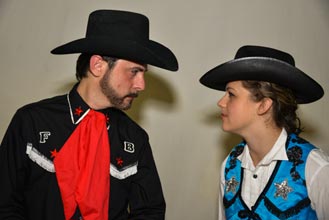 Seems every time I am asked to direct a show at May River Theatre the name Annie is in the title
.
I directed
Annie
in February of 2013, and now it's
Annie Get Your Gun
which is playing this November.
I have been heard in rehearsals saying, "All orphans on stage" when I really meant to say "All Annie's siblings." The productions are not only similar in name but three of the siblings were orphans in the Annie production! Another similarity is the size of the cast . . . LARGE.
Annie Get Your Gun however, has no Daddy Warbucks. Instead it has Buffalo Bill and rootin, tootin cowboys and Indians and of course the beloved Annie Oakley and Frank Butler who star in Buffalo Bill's Wild West Show.
Annie Get Your Gun is a musical with lyrics and music by Irving Berlin and a book by Dorothy Fields and her brother Herbert Fields. Berlin is one of the great songwriters of our time. His familiar tunes that became hits include: "Doin' What Comes Natur'lly; "You Can't Get a Man with a Gun "; "They Say It's Wonderful"; "Anything You Can Do, I Can Do Better" and last but not least, "There's No Business Like Show Business." It's a foot stomping, toe tapping show all the way through!
The 1946 Broadway production with Ethel Merman was a hit, and the musical had long runs in both New York (1,147 performances) and London, spawning revivals, a 1950 screen version and television versions.
The story is a fictionalized version of the life of Annie Oakley (1860-1926), a sharpshooter who starred in Buffalo Bill's Wild West Show and her romance with sharpshooter Frank Butler. Playing the role of Annie is Madison Ogburn who seems to be born for this role. Her sweet soprano voice blends well with her romantic lead Rodney Vaughn who plays Frank Butler. Both will warm your hearts with their romantic ballads and their equally well executed solo numbers.
Other principals in the cast are: Pat Morgan, (Buffalo Bill); Gary Ventimiglia (Charlie); Donna Capps (Dolly); John Lavelle (Mr. Foster); Robert Reynolds (Pawnee Bill); Bill Andrusic (Chief Sitting Bull); Anna Camden Shirley (Little Jake); Adelaide Shirley (Minnie); Sadie O'Conner ((Jessie) and Mary Grace Swanson (Nellie)
The show is produced by Ed Du Puis, with direction and choreography by yours truly, Barbara K. Clark. Beth Corry is the musical director and has added a few dance steps of her own! "Annie" will play from November 7 through November 21, Friday and Saturday evenings at 8 p.m. and Sunday matinees at 3 p.m. at the Ulmer Auditorium at Bluffton Town Hall. Annie Get Your Gun is presented with permission from R & H Theatricals (Rodgers & Hammerstein) New York, NY.
Tickets for the show are available by calling the box office at 843.815.5581. Box office hours are 10 a.m.-2 p.m. Monday-Friday. All reserved seats are $25.