If you are between the ages of 6 and 18, Beaufort Performing Arts needs YOU! Auditions for the "Alice in Wonderland, Jr." have been set for Monday, August 24 and Tuesday, August 25, at USCB Performing Arts Center.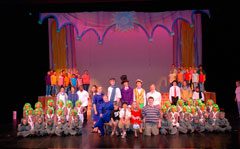 Join Alice's madcap adventures in Wonderland as she chases the White Rabbit, races the Dodo Bird, gets tied up with the Tweedles, raps with a bubble-blowing Caterpillar, and beats the Queen of Hearts at her own game! Roles are plentiful, including three Cheshire Cats and dozens of other wonderfully wacky characters.
Production dates for "Alice in Wonderland, Jr." have been set for October 24 & 25 at the Performing Arts Center. If you are interested in auditioning please arrive 15 minutes prior to the audition time to complete the registration information. Please bring a non-returnable recent photograph of the person auditioning. No experience is required, only a positive attitude.

Beaufort Children's Theatre production of "Beaufort Performing Arts, Jr." is part Beaufort Performing Arts expanding programs for children and adults. If you have any questions please call the BPA office at 843-521-4145.
AUDITION DATES & TIMES
August 24: 5:00 – 6:00 PM Ages 6-9; 6:00 – 7:00 PM; Ages 10- 12; 7:00 – 8:00 PM Ages 13 – 18
August 25: 5:00 – 5:45 PM Ages 6-11; 5:45 – 6:30 PM Ages 12 – 18; Call Backs 6:30 – 8:00 PM