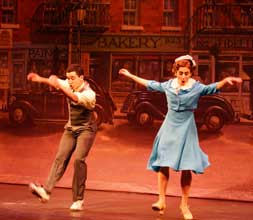 Review by Debra Charlton
The Arts Center of Coastal Carolina has assembled a superb cast of triple-threat performers for the Depression-era musical 42nd Street. Directed by Casey Colgan, the story follows aspiring dancer/singer Peggy Sawyer, a small town girl who comes to New York with big dreams of making it on Broadway.
Featuring a repertoire of familiar tunes including "We're In the Money" and "Lullaby of Broadway," along with sensational tap dancing, 42nd Street is a sparkling concoction just right for the holiday season.
Gabrielle Ruiz brings a winning blend of naivete and sass to the lead role of Peggy Sawyer. Her terrific physicality and spot-on comedic instincts elevate what could be a generic part into a true star vehicle. Ruiz's strong singing voice and outstanding dance skills make her one to watch in the coming years.
Ruiz's innocent young heroine is counterpointed by Susan Powell as Dorothy Brock, an aging diva who sees Peggy as a potential rival, both professionally and romantically. Powell crafts a fully-dimensional performance that navigates moments of high silliness (reminiscent of the wonderfully dippy Vicki Lawrence) balanced by heartfelt pathos. We empathize with Dorothy's insecurities, even while we laugh at her foibles.
The male stars are equally strong. As company tenor and resident Lothario, Billy Lawlor, Nic Thompson gives a virtuoso performance. He is easily the strongest vocalist in the show, as well as one of the most proficient dancers in a company chock full of talent. Richard Yoder plays choreographer Andy Lee and sets the bar for high-spirited, snazzy footwork.
In supporting roles, Bill Bateman and Gail Cook Howell shine as songwriting partners Bert Barry and Maggie Jones. Portraying Anytime Annie and producer Julian Marsh, Kelly Marteney and Jeffrey Watkins are also great fun to watch.
As with any production of 42nd Street, the spotlight is on the dancing. And boy, can they dance! Randy Skinner's brilliant choreography for the Broadway revival is adapted and restaged by Kelli Barclay.
An otherwise effective scenic design by Terry Cermak is marred by some significant sightline issues. While these visual challenges are largely attributable to the theatre's architecture, patrons in some sections of the balcony will have difficulty seeing much of the action on stage right. Since several important scenes are played in that area, which serves as Dorothy's dressing room, some audience members resolved this issue by standing.
It is rare to see audience members dancing and singing tunes from the show in the parking lot after a performance. See it for yourself at this outstanding production of 42nd Street.
42nd Street runs through December 29 at the Arts Center of Coastal Carolina in Hilton Head.
Photo of Gabrielle Ruiz and Richard Yoder (above) by Anthony Paderewski.
This review was originally published by Broadway World and is reprinted by permission.