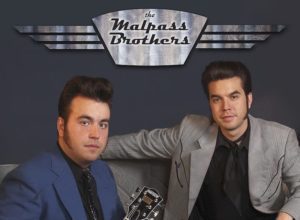 If you love real country music, you have to come see the Malpass Brothers live in concert, Friday, October 22 at USCB Center for the Art. This is the real deal, folks. There is no pretense. This is music steeped in the legacy of the Louvin Brothers, Johnny Cash, Marty Robbins, Hank Williams, Sr. & others. Count on classic, real country. Count on new Malpass tunes. Count on a couple of old-time traditional gospels. Count on their probably coming down into the house at intermission and asking what you'd like to hear. Count on giggles and ribbing between brothers. Count on some big hair and fancy boots and maybe even an Elvis twitch or two. Count on lines at the merch table – and count on logging on to find out where and how soon you'll be able to see them next!
Jack Bernhardt of the Raleigh News & Observer says, "Retro-billy duo The Malpass Brothers are the closest thing to Nashville's Golden Age since the passing of Merle Haggard in 2016. In fact, Haggard took a liking to the Goldsboro siblings and invited them to record at his California ranch. This followed a productive association with Hank Williams Sr.'s former pedal steel player, Don Helms. With their carefully textured coifs and colorful Nudie-like suits, the Malpass boys look the part of the music they sing, from honky-tonk classics to Louvin Brothers standards and old-time gospel."
Showtimes are October 22 at 2pm and 7:30pm. Tickets are $40/Adults, $30/Seniors, and $25/Students. Go to our website, www.uscbcenterforthearts.com and get your tickets now to the "Malpass Brothers in Concert"! Tickets are also available through the box office Monday-Thursday, 1pm-5pm by calling 843-521-4145 and will be available at the door one hour prior to showtime.
If You Go:
Attendance is limited / Masks are required inside CFA
What: Malpass Brothers in Concert
Where: USCB Center for the Arts, 801 Carteret Street, Beaufort, SC 29902
When: October 22 at 2pm and 7:30 pm
Tickets: Tickets are $40/Adults, $35/Seniors, and $25/Students
Visit: www.uscbcenterforthearts.com