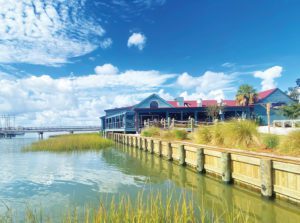 When it comes to Port Royal fave Fishcamp on 11th Street, we came for the views — but we keep coming back (often) for the food, the drink, and the people. We recently helped them celebrate their third anniversary with a fun shrimp boil, so it seemed like great timing to dish it out about this great option from the folks at Coastal Restaurants and Bars (CRAB).
Of course, the classic views from practically any table (or bar stool) in the restaurant are hard to beat, thanks to the shrimp boats, the Beaufort River, Parris Island, the sunsets and more. Whether we're at the outdoor bar, out on the screen porch, or inside, we never tire of the views any time of day — and neither do the many locals and visitors we've taken to Fishcamp in the past three years.
Once we peel our eyes from the views to the menu, it's time to start our debate on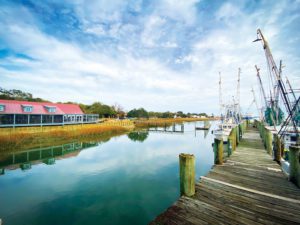 what to order (or what we want our guests to order, so they'll share it). We've enjoyed almost everything on the various menus, but still have a few favorites. We also like asking the always-friendly waitstaff what's looking that good that night and have a policy of ordering at least one of the seafood specials on offer.
Let's start with the Dinner menu and their starters. Everything's good, but we like to stick with generally 'local' and 'southern' when possible, so we often order (for sharing) their Calamari & Pickles, the Fried Green Tomatoes, and the Jalapeño Hushpuppies. And, we have to admit that we rarely visit Fishcamp without ordering Ahi Tuna Two Ways — 'tartare,' with ginger, green onions, soy, and red pepper flakes, and 'au poivre,' where the tuna is chilled and then seared with a black pepper crust, and served over cuke and ginger-y soy sauce.
The salads are generally standard fare, but large and well-constructed, while the Lobster Bisque and Chef's Soup of the Day are always popular. There's also Fishcamp's popular 'Chill Bar,' which features shrimp and varied oysters (including Blue Point, James River, and featured options from near and far that we love trying). Picturesque 'Towers' can include lobster tails, snow crab, shrimp, clams, mussels, and oysters. They also feature a classic Lowcountry Boil, with peel and eat shrimp, sausage, potatoes, and corn, plus one prepared with snow crab instead of shrimp.
Dinner entrées feature seafood, natch, and — along with whatever's on special that night — the long list of possibilities for us and our guests might includes: their popular and delicious Parmesan-Crusted Grouper; Atlantic Salmon; Blackened Carolina Catfish; Seafood Pasta (featuring shrimp, mussels, clams, and crab meat); the Daufuskie Island Blue Crab Cakes, with tasty whipped potatoes and seasonal vegetables; and much more, including southern-friend flounder, oysters, shrimp, or scallops, served with slaw and fries (also available as 'Cast Net,' with shrimp, oysters, and flounder).
Fishcamp's Lunch menu is generally a shortened version of their Dinner menu,
with some nice additions, and that's just fine with us. There are several 'sandwich' options, including a Surf 'n Turf Burger featuring grilled shrimp and house-made pimento cheese atop a hamburger, the Daufuskie Crab Cake Sandwich, a Camp Burger, with fried green tomato and pimento cheese, a tasty Local Shrimp Burger, an Oyster Po' Boy, fish tacos, and a catch of the day fish sandwich, served blackened, grilled, or fried. For lunch entrées, we love the addition of the Tuna Salad Niçoise, featuring their tuna au poivre, as well as an Ahi Tuna Poke Bowl. Can you tell we like Fishcamp's treatment of tuna?
With high tops and bar seating, the great outdoor bar area has its own fun menu, including Deviled Eggs with Fried Oysters, Ahi Tuna Nachos, Fish Bites with Cajun remoulade, Fish Tacos, an excellent Grilled Surf & Turf Burger, and varied shrimp and oyster preparations.
There's also Fishcamp's popular Brunch menu, which is only available on Sundays from 10am to 3pm. We love going for a bike ride on the Spanish Moss Trail on Sunday, with mid- to late-morning brunch at Fishcamp as our thirst-quenching and belly-filling reward. Did someone say Bloody Mary?
The Brunch menu is short, but there are more than enough entrées and sides to suit most appetites. We like the Crab Cake Benedict, the Seafood Omelette (with shrimp, crab meat, smoked sausage, onions, and, ahem, peppers…as loyal readers know, we skip those), and the Fried Chicken and Waffles (served with hushpuppies, which we love). There's also the ubiquitous brunch 'toast,' with Fishcamp's offering a popular Smoked Salmon Avocado Toast. The chunky mashed avocado evidently pairs well with the salmon, but — we know it's sacrilege to many, we still can't stomach avocado.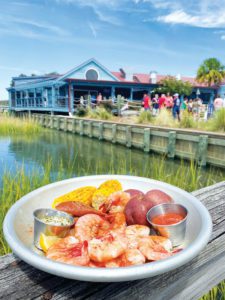 Family-oriented Fishcamp caters to kids as well, with fried shrimp, snow crab legs, chicken fingers, simple pastas, a petite filet mignon for growing gourmands, fresh lemonade with many flavors, and more. The wait staff is particularly good in handling kids — and kids at heart. Plus, all ages won't mind waiting for a table, thanks to the varied games by the water.
And, speaking of kids at heart, Bloodys, and other adult beverages, Fishcamp caters to us as well. Creative cocktails are definitely a calling card at Fishcamp, including: a Crab Fashioned featuring CRAB Maker's Mark®; a Crab Punch with CRAB Coastal Coconut Rum, the Fishcamp Bloody; with Coastal Lowcountry Vodka, shrimp, spicy jalapeño bacon, and Old Bay on the rim; a classic Caribbean-style Painkiller (with Pusser's Rum, of course); and many more. Their canned and bottled beers from near and far are varied and sometimes unique, and the wine list includes many options that pair well with seafood, including personal faves like the 13 Celsius Sauvignon Blanc from New Zealand and several pinot noirs (including Hahn from California, King Estate's Inscription from Oregon, and The Seeker from across the pond in France).
We're often too full for desserts, but have been known to split their decadent Chocolate Peanut Butter Mousse, the Bread Pudding with créme anglaise, the vanilla bean Créme Brulée, or their cheesecake or key lime pie.
Well-respected Coastal Restaurants and Bars (CRAB) from Hilton Head Island
owns and operates Fishcamp on 11th Street and it shows. Quite simply, they know how to run restaurants. Founded in 1973, CRAB is at nine varied restaurants and counting (a tenth was recently announced). From 'sister restaurant' Fishcamp on Broad Creek to Aunt Chilada's and many more, we're huge CRAB fans.
Loyal fans of Fishcamp on 11th Street and other CRAB offerings will most definitely want to join the CRAB Club, which comes with many rewards, including a free lunch after eight lunches, $5 in rewards for each 100 points earned (based on one point per dollar spent), and a $10 Birthday Reward each year (which one of us somehow missed using for a 60thbirthday in August…dang).
In closing, we must report that we've never arrived at Fish Camp on 11th Street by boat (they have dock space for restaurant guests) and would welcome the opportunity to do so with a friendly boat owner (with gas and brunch, lunch, or dinner on us)!
Fishcamp on 11th Street
1699 11th Street
Port Royal, SC 29935
(843) 379-2248
www.fishcampon11th.com; www.hiltonheadcrab (Coastal Restaurants and Bars (CRAB)