As featured on Good Morning America, Lowcountry native Grady Hendrix is the New York Times bestselling author of The Final Girl Support Group and The Southern Book Club's Guide to Slaying Vampires. Beaufort's NeverMore Books and the nonprofit Pat Conroy Literary Center will host an evening with Hendrix in conversation with Holland Perryman and Jonathan Haupt on Tuesday, October 26, at 6:00 p.m.
Free and open to public, this in-person event will be held at NeverMore Books (910 Port Republic Street) with books available for sale and signing. Seating is limited; please call the store to reserve your spot: 843-812-9460. The conversation will also be live-streamed on the Conroy Center's Facebook page.
ABOUT 'THE FINAL GIRL SUPPORT GROUP'
Like his bestselling novel The Southern Book Club's Guide to Slaying Vampires, Grady Hendrix's latest is a fast-paced, frightening, and wickedly humorous thriller. From chain saws to summer camp slayers, The Final Girl Support Group pays tribute to and slyly subverts our most popular horror films—movies like The Texas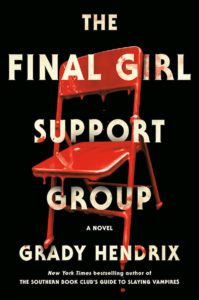 Chainsaw Massacre, A Nightmare on Elm Street, and Scream.
Lynette Tarkington is a real-life final girl who survived a massacre. For more than a decade, she's been meeting with five other final girls and their therapist in a support group for those who survived the unthinkable, working to put their lives back together. Then one woman misses a meeting, and their worst fears are realized—someone knows about the group and is determined to rip their lives apart again, piece by piece. But the thing about final girls is that no matter how bad the odds, how dark the night, how sharp the knife, they will never, ever give up.
The New York Times says: "A great read…[Hendrix] excels at writing horror humor… His characters are funny and real… Though the final girls' plight has all the scares of great horror fiction, there is an element of truth in their situation that will be recognizable to anyone who has experienced real trauma."—The New York Times
And from Publisher's Weekly's starred review: "A wildly entertaining romp through the conventions of horror's slasher film subgenre…Hendrix masterfully evokes the paranoid existences of his diverse cast in the aftermath of their traumatic ordeals, and he so explicitly details the massacres and fictional film sagas that grew out of them that readers may believe them to be real. The result is a wonderfully suspenseful and darkly comic novel that cleverly subverts popular culture. Horror fans will be wowed."
ABOUT THE AUTHOR
Raised in Mt. Pleasant, South Carolina, Grady Hendrix is an award-winning novelist and screenwriter living in New York City. He is the author of Horrorstör, My Best Friend's Exorcism, We Sold Our Souls, and the New York Times bestselling The Southern Book Club's Guide to Slaying Vampires, which is being adapted into a series by Amazon Studios. Grady also authored the Bram Stoker Award-winning nonfiction book, Paperbacks from Hell, a history of the horror paperback boom of the '70s and '80s.
ABOUT THE HOSTS
Holland Perryman is a senior at Beaufort High School, where she is student body president, captain of the Girls Varsity Lacrosse team, winner of the Ann Head Literary Prize for Short Story, and founder of DAYLO: Diversity Awareness Youth Literacy Organization. She was selected as the first student intern of both the Conroy Center and the Friends of South Carolina Libraries. Her book reviews and author interviews have been published in the Charleston Post and Courier,Beaufort's Lowcountry Weekly, and the Southern Review of Books.
Jonathan Haupt is the executive director of the Pat Conroy Literary Center and the former director of the University of South Carolina Press. His book reviews and author interviews have appeared in the Charleston Post and Courier, Lowcountry Weekly, Beaufort Lifestyle, Savannah Morning News Beacon magazine, and the Southern Review of Books. He is co-editor of the anthology Our Prince of Scribes: Writers Remember Pat Conroy, winner of 17 book awards. In 2020, he was honored with the Doug Marlette Literacy Leadership Award, presented by the Pulpwood Queens, the largest book club in the U.S.
Learn more about the Pat Conroy Literary Center: www.patconroyliterarycenter.org. Learn more about NeverMore Books: www.nevermorebooks.com.