The Winthrop Chorale and Chamber Singers will perform a concert at The Parish Church of St. Helena (Episcopal) on Monday evening, November 16.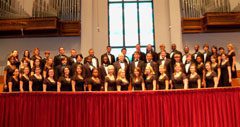 The ensembles perform under the direction of Dr. Katherine Kinsey, Director of Choral Activities, and tour bi-annually. During their 2009 Fall Tour the ensembles are performing throughout the coastal areas of the state and in Columbia, SC.
The Winthrop Chorale, the University's principal touring choir is a 50-voiced, auditioned ensemble that has been featured with the Charleston and Charlotte Symphonies as well as in state and regional conventions. The Winthrop Chamber Singers will also be featured in this concert. This group is a select ensemble of 24 singers specializing in a cappella music from the Renaissance through the present century. The choir has also been featured in high profile events throughout the state such as the Choral Artist Series of the Piccolo Spoleto Festival. The repertoire for this concert will include works by Brahms, Schutz, Whitacre, Argento, Stroope, Childs, and Gawthrop.
Preceding the Winthrop singers, Beaufort High School's "Voices" will perform. Voices is a 90-member advanced choral ensemble under the direction of Victor Varner. This combined program is exciting for Varner, who got his masters degree is music education from Winthrop, where he sang in the Winthrop Chorale and was Assistant Director of the Winthrop University Jazz Voices. Varner remained in Rock Hill for 15 years as Choral Music Director at Northwestern High School where one of his ensembles achieved the highest score in the North American Music Festival's Jazz Division.
Another Beaufort-Winthrop connection is Chris Homyck, who will be among the Winthrop singers Monday night. Chris graduated earlier this year from Beaufort High School and is one of very few freshmen accepted into the Winthrop Chorale; moreover, he was also chosen for the even more select Chamber Singers ensemble. While at Beaufort High, Chris was in Varner's BHS Voices where he was featured as a soloist.
The concert begins at 7 PM. It is free and open to the public. The church is located at 707 Church Street in downtown Beaufort.