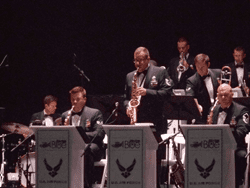 In honor of Veterans Day, the United States Air Force Rhythm in Blue Jazz Ensemble will perform two concerts here in the Lowcountry. The first is Friday, November 11 at 8 pm at the Arts Center of Coastal Carolina on Hilton Head. The second is Saturday, November 12th at 7 pm at the Beaufort High School Arts Center. Both concerts are FREE and open to the public.
         Rhythm in Blue features the diverse talents of 15 professional musicians whose commitment to excellence has earned worldwide acclaim and military distinction. The band incorporates a wide repertoire of jazz and fusion, from big band swing to cutting-edge contemporary music. Their fabulous vocalist radiates sounds of the great jazz divas and inspires with patriotic classics.
         Activated in 1941, The United States Air Force Heritage of America Band has a rich history of inspiring public patriotism and enhancing esprit de corps among all the US military service branches. These world-class musicians are stationed at Joint Base Langley-Eustis in Hampton, Virginia. They travel throughout the Carolinas, Mid-Atlantic and Northeast regions, presenting over 300 events annually for the general public and in support of Airman morale and protocol events. Under the leadership of Captain Michael D. Hoerber, the USAF Heritage of America Band remains at the forefront of communicating Air Force core values and preserving and enriching America's military and musical heritage into the 21st century.
         The unit's dynamic new jazz ensemble Rhythm in Blue takes great pride in preserving America's uniquely original art form, recruiting a new generation of listeners, and representing all Airmen. From formal concerts in grand auditoriums to casual shows in the park, Rhythm in Blue is in constant demand traveling throughout the Eastern United States, performing for diverse audiences from Maine to South Carolina.
         Tickets are available – free – to the November 11th concert on Hilton Head, which starts at 8 pm. (Call 843-842-2787.)
         No tickets are necessary for free admission to the November 12th concert at the Beaufort High School Arts Center, which starts at 7 pm. This concert is sponsored by Lowcountry Weekly, Beaufort High School, and the Beaufort County School District.