Charles D. Frost will present an organ receital that's the first of it's kind in Beaufort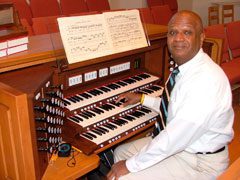 Charles D. Frost, organist, will present an organ recital on Sunday, November 15, at 4:00pm, at Sea Island Presbyterian Church, 81 Lady's Island Drive, Beaufort, SC. The program, called "Music of Black America," is comprised of music composed by African Americans… including music based on Spirituals, Hymns, and other organ selections. Some of the composers to be included are Betty King, Adolphus Hailstork, David Hurd, Thomas Kerr, Ralph Simpson, and Samuel Coleridge-Taylor.
Frost is excited about this program. He says, "This is the first time a program like this has been presented in this community. In fact, I have never heard of this kind of program. During the past couple of years, I have been doing a lot of research on worship in the Black Church as well as Gospel Music and Spirituals. During my research, I discovered that a lot of organ music had been and continues to be written by African American composers. I think the public will find this a very interesting program. There will be music for people of all levels of musicianship as well as those with no musical talent."
Frost is Minister of Music at the Sea Island Presbyterian, where he directs choirs, is organist, and oversees special music programs and concerts. The music program includes singing choirs for children through adults, handbell choirs, and other ensembles. In addition to his work at the church, he performs recitals in other cities, conducts workshops, and is on the New Hymnal Committee for the Presbyterian denomination. In Beaufort, he serves on the Board of Directors of the Beaufort Orchestra as well as being their keyboardist.
The public is invited to attend this program. A freewill offering will be accepted. For more information, contact Frost at the church, 843-525-0696.