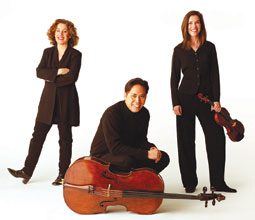 A fundraiser for the newly formed Hilton Head Chamber Music Institute entitled "The Blakemore Trio" will be held on Thursday, April 13, 2019 at 7:30 pm to benefit student scholarships for the new program.  The Blakemore Trio comprised of Carolyn Huebel, violin, Felix Wang, cello, and Amy Dorfman, piano, will perform Haydn, Schoenberg and Rachmaninov at HHSO SoundWaves.
This event will introduce the Hilton Head Symphony's new program, the Hilton Head Chamber Music Institute (HHCMI), to be held this summer from June 6 through June 16, 2019.  This program is designed for students who play the violin, viola or cello and have completed grades 8 through 12. 
The Institute provides an intensive training program focused on the art of chamber music. Designed for outstanding young musicians from across the United States who possess a strong focus on chamber music performance, the program is led by world-renowned violinist and cellist, Carolyn Huebl and Felix Wang, professors at the Blair School of Music at Vanderbilt University.
This highly individualized program encompasses coaching, master classes, one-on-one instruction, special workshops and professional performance experience at SoundWaves, the Hilton Head Symphony Orchestra's new, state-of-the-art island headquarters.
Tickets for The Blakemore Trio are $35 for adults, students under 18 are free.  Tickets are available online at www.hhso.orgor by calling the HHSO office at 843-842-2055.