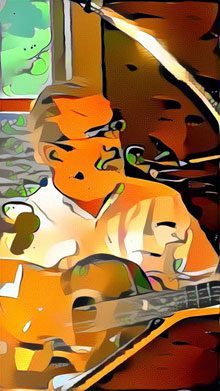 Beaufort Academy recently announced that Vic Varner will be joining its staff as Director of a new Vocal Music and Guitar program. A longtime music educator who retired from teaching six years ago, Varner has enjoyed a very active "retirement" – running the music program at First Presbyterian Church, directing the University Choir at USCB, and playing regular gigs around town with his jazz band.
So why is he going back to school?
"I miss teaching kids to read music," he says. "The biggest thrill for me is to see the light bulb click over a student's head the moment he or she understands musical intervals. Simply put – I am a music educator and I love it.
"Also, we'€™re in a unique situation because Dan Durbin understands exactly where I want to go with the program. He's seen it first hand and supports my goals."

Durbin, Beaufort Academy's new head of school, was principal of Beaufort High School during Varner's tenure there, and the rise of his award-winning choir, BHS Voices. Do the two men expect to recreate the magic at BA, a much smaller, private school?
"We definitely have a smaller population to draw talent from," says Varner, "but I'm hopeful to get everyone at BA involved. Every single student . . . eventually."
When asked about BHS Voices – and how he got that smooth, sophisticated sound out of high school kids – Varner says, "The secret is to make them all into music readers. That way you can select interesting repertoire that only music readers can achieve. Singers have to pull their intervalic understanding out of mid-air – no keyboard, or fretboard, or valve, or slide to help understand how to sing from 'do' to 'fa.' Ear development is what it's all about."
Varner developed a "solfege" approach for teaching sight-reading that has been adopted by numerous music educators in South Carolina. His school choirs have performed at Carnegie Hall and Lincoln Center and have been nationally ranked in competitions from Orlando to Toronto.
Varner grew up in the Park Circle area of North Charleston. His undergrad degree is in Music Education from Charleston Southern University and his Masters of Music Education is from Winthrop University. He achieved Kodaly Certification from studies at Capital University in Columbus, Ohio and studied jazz arranging under renowned artist Phil Mattson at Southwest College in Creston, Iowa.
A singer/guitarist, Varner also works as a performer and recording artist at venues throughout the southeast. He has been featured at Hilton Head's Jazz Corner, Palmetto Bluff's "Music to Your Mouth" jazz series and Charleston's Piccolo Spoleto Festival.
Varner plans to develop a first class choral program at BA, along with a guitar ensemble. He says his favorite part of being a music educator is retaining kids, developing relationships with them, watching them grow musically, year after year.
"I have no kids of my own," he says. "Just the thousands I've taught."
Enrollment at Beaufort Academy is still open. For more information, call 843-524-3393 or visit www.beaufortacademy.org