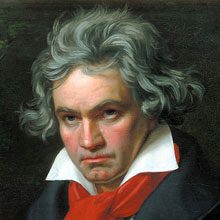 No other figure in the arts elicits such a strong emotional response as does Beethoven. People may pity van Gogh, respect Michelangelo and Shakespeare, admire Leonardo da Vinci but Beethoven immediately calls up a powerful, positive image: the tough, angry genius creating deeply expressive masterpieces in the face of adversity.
               On Sunday, January 26, 5:00pm, USCB Chamber Music will present one of 2020's first concerts to celebrate the 250th anniversary year of Beethoven's birth. One of the attractions of Beethoven, in addition to writing compelling music, is that he was immensely and understandably human. Beethoven was unconventional in background and lifestyle, infused with a steel-edged belief in his artistic capacities, experienced in the full range of human emotions from soaring ecstasy to darkest despair, and carved his personal and professional path as he saw fit, bowing to no one while raising everyone. In a cruel trick of fate, his hearing loss slowly progressed to profound deafness over the course of 22 years, leaving him isolated from humanity and separated by a wall of silence from the capacity to hear music. He retreated into himself and vowed to concentrate on creating music for the ages. His story is one of overcoming adversity through unrelenting hard work and an unquenchable belief in his talent and ultimate success, qualities that have traditionally been prized by Americans. He was a larger than life figure in his time, wrapped in myth, and recognized by his contemporaries as a visionary man of genius.  
               Beethoven single-handedly changed the course of music history. He began composing in the balanced and pleasing Classical-era style of Mozart and Haydn, in mid-career led the revolutionary charge into the Romantic-era's emphasis on personal expression, and in his late period arrived at music that was virtually incomprehensible to his contemporaries and continues to astonish. The music on this concert will travel the arc of Beethoven's life through the vehicle of his five Cello Sonatas. Nos. 1 and 2, from 1796, were Classical in style and tone with the piano being more prominent than the cello. Sonata No. 3, from 1807, is one of the greatest works in the cello literature. The equal prominence of the cello, sweeping use of the instrument's range, and long, singing lines all herald the full flowering of the cello's role in the duo sonata. Sonatas Nos. 4 and 5, from 1815, were the crowning achievement of Beethoven's chamber music with piano and exhibit even greater flights of imagination. After hearing an early performance of one of the pair, a leading Mannheim musician wrote in his diary, "It is so original that no one can understand it on first hearing."  
               To play this music will be two of the most beloved performers ever to grace this series, cellist/host Edward Arron and pianist Jeewon Park. Ms. Park has been praised for her "deeply reflective playing" (Indianapolis Star) and "infectious exuberance" (New York Times) and has garnered the attention of audiences for her dazzling technique and poetic lyricism. Since making her debut at the age of 12, performing Chopin's Concerto No. 1 with the Korean Symphony Orchestra, she has performed in prestigious venues worldwide as a competition winner, recitalist, and chamber musician. Ms. Park also has had an impressive academic career, earning degrees from The Juilliard School, Yale University, and a DMA from SUNY Stony Brook. Edward Arron has garnered recognition worldwide for his elegant musicianship, impassioned performances, and creative programming. A graduate of The Juilliard School, he joined the faculty of the University of Massachusetts Amherst in 2016.
               Ms. Park and Mr. Arron have brought their exquisite ensemble-playing skills to this series on multiple occasions, but this will be the first concert wholly devoted to cello/piano sonatas. Their extensive training, brilliant performing capability, thorough knowledge of this repertoire, coupled with the fact that they are a couple, will combine to produce a memorable Beethoven experience not to be missed. 
               Support the Arts! Blow away the winter blahs. Beethoven's music will compliment his words: "Music is a higher revelation than all wisdom and philosophy." Share in the celebration of his 250th and USCB Chamber Music's 40th. Concert information and tickets, as well as information about the newly launched Endowment, are available on www.uscb.edu/chambermusic or at 843-208-8246, Monday through Friday. The USCB Center for the Arts, located at 801 Carteret Street, opens at 4:15pm on the day of the concert, Sunday, January 26.