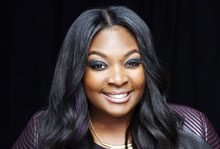 The 62nd Annual Beaufort Water Festival is thrilled to announce that national recording artist Candice Glover has joined their entertainment roster as a special musical performer for this year's Lowcountry Supper.
"As the Commodore of the 62nd Annual Beaufort Water Festival, I am excited to announce our Lowcountry Supper entertainment for this year," said Jason Berry. "It gives me great pleasure to announce our headliner, Broke Locals with opener act, Eric Daubert will be joined by Candice Glover performing as our special guest." Â Â Â Â Â Â Â 
Formed in 2005, Broke Locals have been entertaining the Southeast for the past 12 years with a blend of original music and covers of hits from a broad variety of genres. With a sound that can best be described as "southern-fried funk," and playing classics like Jimi Hendrix, Bill Withers, and Prince; and contemporary artists like the Black Keys and Ed Sheeran; Broke Locals offer something for fans of all types of music. The band's current lineup includes Beaufort native, and now Savannah resident, Chris Davis on vocals, acoustic guitar, and keyboard and resident Beaufort natives Mark Douglas on lead guitar, Keith Navarre on bass guitar, and Gene Green on drums.
Candice Glover is a native of Beaufort, who auditioned for American Idol three times and was twice cut before making it to the live rounds. Glover scored a spot on the show's twelfth season—then used her pure and powerful vocals to emerge as the season winner. In March of this year, she released her latest single, My Mistake.
The annual concert is slated for Thursday, July 20. A Lowcountry supper will be served from 6:00 PM to 7:30 PM with music starting at 6:00 pm. Tickets are now available for purchase. Visit www.bftwaterfestival.com