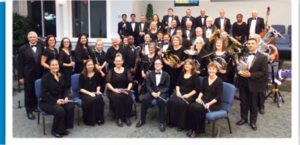 After an 18 month hiatus, the Lowcountry Wind Symphony returns with a concert on November 7th, 4 pm, at Sea Island Presbyterian Church, 81 Lady's Island Drive in Beaufort.  The concert is FREE but donations are always gratefully received. All are welcome to attend.
This marks the sixth year the entire concert will be devoted to honoring all our men and women in the military, past and present. What better way to honor veterans than with an afternoon of wonderful patriotic music!
According to Music Director, Donald F. Jemella, "As we do each year, the concert will include stirring Sousa marches and symphonic pieces such as 'America the Beautiful,' 'God of Our Fathers,' 'Civil War Rhapsody,' and the Service Medley, honoring each branch of the US Military."
LWS is a concert band made up of talented amateur and professional brass, wind, and percussion players from the greater Beaufort area.
LWS has a full concert season scheduled with winter and spring concerts north of the Broad River in Beaufort and in the greater Bluffton area. The schedule of concert performances can be found at the LWS website: lowcountrywindsymphony.com
New band members are welcome to join us. No auditions are required. If you would like more information about this or becoming involved in band operations support, please contact dfjemella@outlook.com.
To make a donation to LWS' 2021-2022 Season or to support our scholarship fund, tax deductible contributions can be sent to P.O. Box 1526, Bluffton, SC 29910.
We invite you to visit our website: lowcountrywindsymphony.com and we look forward to seeing you at the concert as we continue "Exploring What's Musically Possible."