The Beaufort Symphony Orchestra and Maestro Frederick Devyatkin invite everyone in the greater Beaufort area to attend the opening concerts of our Twenty-fourth Season entitled "Two Fifths of Beethoven."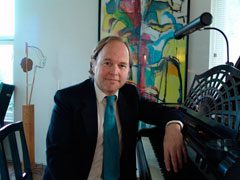 World-renowned piano soloist, Daniel Adni will headline an All-Beethoven program on Thursday, October 13th, 8:00 P.M. and Sunday Matinee, October 18 at 3:00 P.M.
Mr. Adni has become one of Europe's most sought after concert artists. He will be performing the "Emperor Concerto, No. 5 with the BSO. Mr. Adni was born in Israel and made his keyboard debut at age 12. While studying at the Paris Conservatory he won their Premier Prix three times. In 1976 he was given top honors at the Young Concert Artist International Auditions, joining a list of truly exceptional musicians, including Emmanuel Ax and Murray Perahia. He has received rave reviews under the baton of Sir Georg Solti, Sergiu Commissiona, Lorin Maazel and Zubin Mehta.
He is appearing with the Beaufort Symphony as a result of the generous support of local music patron, Martha D. Hoke, who met him at the Romanian Arts and Music Festival in Britain two years ago.
The second "Fifth" of Beethoven chosen by Maestro Devyatkin for our opening program is the towering Symphony No. 5, which begins with its famous notes 'da-da-da-da'. Now our audience has an opportunity to hear every single stirring note!
The Beaufort Orchestra encourages young people through high school to attend our concerts for $5.
In additional to the adult orchestra, the BSO is also the parent organization of the Beaufort Youth Orchestra, a dynamic group of young players, also directed by Fred Devyatkin. This group welcomes young people from upper elementary through high school by audition. (for more information about the youth group, please call (912) 232-7250 or (843) 524-1216)
As we begin our twenty-fourth year, The Beaufort Symphony invites everyone to come experience the excitement as we continue to 'Keep The Music Live'! For ticketing, please note the information below or visit the orchestra's website at www.beaufortorchestra.org.
The Beaufort Orchestra is supported in part by a grant from the South Carolina Arts Council.
The Beaufort Symphony Orchestra
2009-2010 Season
Frederick Devyatkin, Musical Director
Two Fifths of Beethoven!
October 15th, 8:00 P.M. and October 18th, 3:00 p.m.
Beethoven – Concerto #5, "Emperor"
Featuring world-renowned pianist, Daniel Adni
Beethoven – Symphony #5
Holiday Treats!
December 17th, 8:00 P.M. and December 20th, 3:00 P.M.
Nutcracker Selections
Music of the Season
Romantic Masterpieces!
March 4th, 8:00 P.M. and March 7th, 3:00 P.M.
Brahms – Violin Concerto
Featuring Tomas Kocsis, soloist
Dvorak – Symphony #9
From Russia (and Hollywood) With Love!
May 6th, 8:00 P.M. and May 9th, 3:00 P.M.
Tchaikovsky – Romeo and Juliet
Phantom of the Opera, Titanic and other tunes!
USCB Performing Arts Center
801 Carteret Street, Beaufort
Adults $30, Youth through High School $5
Season Subscriptions – 843-524-3593; 843-838-9309
Individual tickets at the Beaufort Orchestra's website
Call Ticket Fusion (toll free) 1-877-548-3237
Remaining tickets at the door, if available