By Mrs. Arts Volunteer of the Year (Lisa Annelouise Rentz)

This past summer my husband Irby was honored with a Jasmine award crafted by Hank D. Herring and bestowed by the Arts Council of Beaufort County. We both appreciate the many congratulations he's received.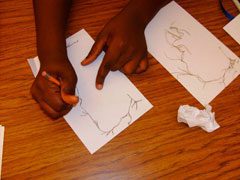 Among the long list of assets the arts industry has as a cultural force is what Irby practiced so well, the ability to say Yes. This audacious readiness to respond positively, in matters from choosing a color to influencing civilization-forming policies, is both a technical skill and one of taste. The arts are where human communication is most genuine. One of the best falling-in-love stories I've heard is John Lennon's explanation of how he connected with Yoko Ono. She had assembled an installation, agreeing to share her work with the world, which consisted first of a ladder that the viewer had to climb; perspective is another of art's great offerings. Then at the top, viewers including John Lennon, peered into an enclosed component to see the visual prize, and there it was— Yes.
There are many art Yeses to experience this fall— I was going to add in Beaufort County, but why stop there?— and one is even an experiment in No. That experiment is A Day With(OUT) Art, an HIV/AIDS awareness exhibit at the Technical College of the Lowcountry in December. Brad Thomas, at 528-8218, is taking submissions from artists of all artforms, from performance to visual. I look forward to this event, because as Kristy Smith Callaway, executive director of the Arts Schools Network, once pointed out— and actually, I bet she's said it more than once— it is not possible to live a day without art. Consider the designer of your car, for example.
Public health is firmly within the realm of arts advocacy because, like culture and communication, health is something that we all have in common. In other words, the body is the outermost layer of the mind (for those of you who've read Sally Drumm's Milspeak anthology, please excuse me for repeating myself) and understanding the effects of legislation— there are too many list here— is top-of-the-ladder advocacy duty for the creative class. Artists engaging with civil servants on the policies that effect their daily lives and their industry is not illegal or unethical (thank you Arlene Goldbard) or even out of the ordinary. In February, the SC Arts Alliance (.net) will hold their annual Arts Advocacy Day in Columbia, when artists and arts supporters will ask their legislators: Are you a member of the arts caucus? Are you aware how your professional and personal conduct reflects on our community? Do you have these figures about the beneficial impact of the arts on the local economy? How do you support arts in education to improve student learning?
I get to say Yes to arts-in-education very often (with summers off!) in my job as a teaching artist in the Lowcountry Arts Integration Project. At Whale Branch Elementary and Middle School, and at St. Helena Elementary, I work with an amazing team of artists and classroom teachers to meaningfully combine the standards of an artform— creative writing, for example— with academic standards, 4th grade science, for example. The result is The Story of the Solar System, one expansive chapter per student…or The Art & Science of Basketry with artist Kim Keats and 6th grade science, or Catawba Pinch Pots with artist Melba Cooper and 4th grade Social Studies, or Eating the Alphabet with community scholar Ervena Faulkner and 2nd grade health class, or The State Dance The Shag with dancer Caroline Hoadley (her new book Carolina Shag: the Spirit of Southern Social Dance is out! misscusa@yahoo.com) and 3rd grade history, or Interviews & Gullah Stories with storyteller Louise Miller Cohen to enrich the afterschool session.
Artists and educators are invited to ARTworks on Monday, October 19th, 6 to 8pm, to Speak Out About Arts-in-Education. This meeting is a free and social wine & cheese reception to share arts integration resources and achievements, county-wide. Artists, teachers, and even arts administrators like JW Rone, executive director of the Arts Council of Beaufort County, and Margaret Rushton, fine arts coordinator for the school district (the two organizations are also Kennedy Center Partners in Education) will mingle and chat, learn about the arts council's plans for Youth Art Month in March, view heart-warming images of students learning through the arts, and generally soak up the healthful, creative atmosphere of ARTworks in order to return it to the community. The public is invited as well, please email lisa@beaufortcountyarts.com to RSVP (especially if you have arts integration projects to share at the session) and bring a friend too. Yes? Yes!
Also coming…

4th Friday ARTjam @ ARTworks
On Friday, October 23rd, 6:30-9pm, get the resident artist experience. The Arts Council of Beaufort County is now accepting applications from artists for affordable studio space and arts business incubation. That's a winning combination, like pastel-butter and archival paper-jelly for a successful arts career sandwich! Attend the jam, $5 at the door, and find out: what's a resident artist? what do they do? How many paintbrushes can fit into one studio? How do I apply? What's an arts council? What do you think of this color for the background? Hands-on art experiences and the t-shirt design competition will also be offered, special guest musicians will perform, and a yummy selection of artisan breads and treats will be available. ARTworks is in Beaufort Town Center, 2127 Boundary Street, between KMart and BiLo. beaufortcountyarts.com, 379-2787.