Piano Duo Lomazov & Rackers make a much anticipated return to Fripp Island.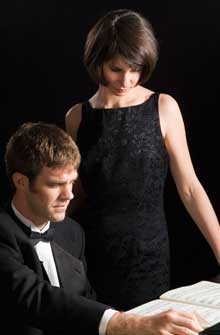 Fans remember their incredible Fripp performance two seasons ago. Scarcely had the encores and raucous standing ovations faded, when the audience was demanding that Fripp Island Friends of Music book Marina Lomazov & Joseph Rackers again as soon as possible. Well, their many fans are getting their wish!
For those who haven't heard these Eastman-trained pianists, Marina Lomazov & Joseph Rackers are exciting virtuosos whether they are playing solo or four-hand. With each passing season, they are increasingly sought after by audiences worldwide; after every performance, music critics search for ever-grander superlatives to describe their passionate artistry and amazing technique.
The Lomazov/Rackers piano duo came to attention in 2005 as the Second Prize Winners of the Sixth Biennial Ellis Duo Piano Competition, the only national competition for piano duo in the United States at that time. Since then, they have performed as recitalists and in concert with orchestras throughout the United States and Europe, including performances at the Kiev International Music Festival (Ukraine), Varna International Masterclasses in Piano (Bulgaria), Moulin d'Ande Arts Festival (France) and Burgos International Music Festival (Spain), in addition to appearances in every region of the United States.
Lomazov and Rackers are Steinway Artists. In 2010, they gave the world premiere performance of a new two-piano concerto by John Fitz Rogers, commissioned by the South Carolina Philharmonic Orchestra as part of the Society of Composers International Conference. Other recent engagements include performances with the Chernigov Symphony Orchestra (Ukraine), Lukas Theatre in Savannah, Georgia, performances or masterclasses at Arizona State University, University of Colorado, the Music at Penn Alps Concert series in Maryland and the Piccolo Spoleto Festival in South Carolina. Their performances have been described as "splendid" (Rochester, NY, WXXI radio), and a review of a recent performance of the Poulenc Concerto for Two Pianos and Orchestra said simply: "The soloists? Amazing." (The State, SC). They have given more than twenty-five performances of Stravinsky's Rite of Spring across the United States since 2006, leading one critic to write that the duo "really lit up the audience . . . demonstrated that nearly 100 years after it was written, this modernist touchstone can still sound modern." (Dan Cook, Columbia Free Times).
As a solo pianist, Marina Lomazov has performed throughout the United States as well as Europe, South America and the Far East. She has won prizes in the Bachauer, Cleveland, Hilton Head, Kapell and National Federation solo piano competitions and was the first pianist to be awarded the Artist Diploma at the Eastman School of Music in nearly two decades. Joseph Rackers has performed throughout the United States, Bulgaria, Canada, China, France, Germany, Spain and Ukraine at venues including the Shanghai and Sichuan Conservatories of Music (China), Dame Myra Hess Concert Series (Chicago), Sulzbach-Rosenberg International Music Festival (Germany) Banff Centre for the Arts (Canada), Yantai International Music Festival (China) and throughout the United States. He is the recipient of the prestigious Performer's Certificate from the Eastman School of Music.
Ms. Lomazov and Mr. Rackers each hold the Doctor of Musical Arts Degree in Piano Performance from the Eastman School of Music and both serve on the piano faculty of the University of South Carolina School of Music.
Lomazov and Rackers will perform at the Fripp Island Community Center at 205 Tarpon Blvd at 5 pm on Sunday, December 2. Tickets at the door are $25 for adults, $10 for students. All attendees are invited to join the artists at a catered reception following the performance. For more information, call 843-838-6655. http://www.islc.net/friendsofmusic