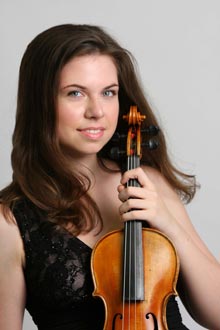 Everyone who was in the audience clapping wildly following Tessa Lark's 2013 debut performance in Beaufort will want to be in the same spot at the USCB Center for the Arts on Sunday, March 9 at 5 pm.
The 2012 Naumberg International Violin Competition winner, will join Erin Keefe, violin and viola; Kurt Muroki, double bass; Pedja Muzijevic, piano; and cellist and host Edward Arron for a wonderfully varied program of music by chamber music icons Rossini, Bartok, Schubert and contemporary American Mark O'Connor.
The classical music world has had its share of prodigies; Mozart comes immediately to mind. But Rossini was no late bloomer as you will hear in his charming Sonata No. 3 in C Major for string quartet. Writing at the advanced age of twelve while on summer holiday, he composed the piece for the instruments he had at hand—two violins, cello, and bass. The quartet is coated with the sheen of youth but Rossini's innate feel for drama hints that this is a musical personality destined for the theater. Hungarian Béla Bartók, one of the 20th century's greatest composers, was also an avid collector of his country's folk music and adapted many songs and dances for instrumental performance. His set of six Romanian Folk Dances, for violin and piano, is filled with exotic character and irregular rhythms, while their mood ranges from hauntingly lyrical to exuberant.
The concert concludes with one of the most beloved pieces in the repertoire, Schubert's Quintet in A Major, "Trout." Written in the afterglow of an especially delightful summer holiday, the quintet is brimming with good-natured friendship, bathed in sunshine and the spirit of youth, and perfectly suited to the intimate nature of chamber music fellowship.
The American violinist Mark O'Connor, through talent, hard work, and good luck, has become a virtual musical industry unto himself. He is a cross-over fiddle player (with over two million solo albums sold), composer, educator, and winner of awards and prizes. He will be represented by the hauntingly beautiful Appalachia Waltz for Violin, Cello, and Bass. This work gained O'Connor widespread recognition as a leading proponent of a new American idiom. The composer explains the work's appeal: "If it's played for folk musicians, they most often think its classical music. When played for classical musicians, they most often think of it as folk music."
In this concert, the instruments as well as the artists and the music are of particular note. The string performers, violinists Erin Keefe and Tessa Lark, bassist Kurt Muroki, and cellist-host Edward Arron are young artists playing on old instruments. Their violins and bass pre-date every piece on the program and the cello hails from the 19th century. The pianist, Pedja Muzijevic, will present insights gained during his internationally praised, 35-year career, on a nine-foot concert Steinway.
For additional information about the artists and program, go to www.uscb.edu/festivalseries. For tickets, contact Staci Breton at 843-208-8246 or sjbreton@uscb.edu. Tickets will also be sold at the door beginning at 4 pm on the day of the concert.