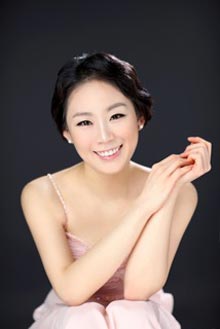 Mark February 23rd in your calendars for Ms. Yoonjung (Yoonie to you) Han, as she steps onto the Fripp Friends of Music stage and makes her Lowcountry debut. A Steinway Artist & one of the most celebrated classical pianists of our time, her list of first prizes from distinguished competitions around the globe is simply astounding for one so young, but no less amazing than the sheer poetry she evokes from the keyboard!
Her initial solo debut was with the Seoul Philharmonic when she was 13; following her 2001 grand-prize in South Korea's national music competition, her talent has propelled her to global prominence.
She earned a Bachelor's degree from the Curtis Institute under Eleanor Sokolov and received her Master's from The Julliard School as a pupil of Robert McDonald. Her studies have continued with renowned artists Philippe Entremont and Jean Saulnier, as she pursues her Doctorate at the State University of New York (SUNY) at Stony Brook.
In the 21st Century's second decade, Ms. Hahn has flourished as a self-assured artist, combining extraordinary natural gifts with hard-won skills and an engaging stage presence. In high demand, one of only five pianists selected globally to perform at Italy's Bergamo Festival Internazional, she quickly earned a major prize at the Paterna Internacional Pianistic Competition in Valecnia, Spain, then won 1st Prize out of a dozen semifinalists (out of 149 entrants from 38 countries) at the Fulbright Concerto Competition in Fayetteville, Arkansas, with invitations to New York, Los Angeles, Miami, London, Hamburg, Munich and Berlin. 1st Prize at a DC international competition of 17 semifinalists and 222 entrants followed her Fulbright victory. Sweeping the field at Kennedy Center, she won an encore in the US capital—her Kennedy Center solo debut!
She has performed with the Berlin Symphoniker, Buffalo Philharmonic, Houston Symphony, Banff
Festival Orchestra and I Pomeriggi Musicali di Milan, to cite only a few of her appearances. She has graced Lincoln Center's Alice Tully Hall, Carnegie Hall, Berlin Philharmonie Hall, Finlandia Hall, Slovak Philharmonic Hall, Italy's Bergamo Festival, Amsterdam's Concertgebouw and Chicago's Dame Myra Hess Concert Series. WQXR-New York and NPR's "Artist Showcases" have broadcast her performances.
Some music critics have described Ms. Han's virtuosity in such hyperbolic terms that a reader used to straightforward, descriptive language might be skeptical. How can any young musician be THAT good?! Well, Yoonie is THAT good! The taciturn Finns, seldom given to exaggeration, and far more likely to understate their feelings in a critical review, went over the top about Ms. Han—as the Helsinki Post's music critic wrote, "A simply phenomenal player! Absolutely stunning! Her magnificent juicy sound filled up the whole Finlandia Hall."
The Cincinnati Enquirer skipped the hyperbole, but still was effusive in its praise: "It seemed as though Han was one with her instrument, with flowing tones, poetic phrasing and heavenly singing melodies. This young pianist has put flawless technique, musical artistry and maturity far beyond her years, together into a terrific package."
Fripp Friends of Music invites you to discover for yourself why Yoonie Han is considered one of the premier classical pianists of the decade, if not the new century. You will be richly rewarded by attending her concert, Sunday, February 23rd at 5 pm at the Fripp Island Community Centre, 205 Tarpon Blvd., Fripp Island SC, 29920. Tickets at the door: Adults $25 per person/$10 for students. All attendees receive a free entry pass at the Fripp Gate and are invited to join the artist at an included catered event following the performance. Information (843) 838-6655. www.islc.net/friendsofmusic/