The Beaufort Orchestra will present its Spring Classical Concert, 'Russian Bears' at 8:00 P.M. Thursday Evening, March 6th and a Sunday Matinee March 9th at 3:00 P.M. All concerts are at USCB Performing Arts Auditorium, 801 Carteret Street, Beaufort.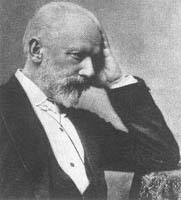 The word "bear" has long been associated with all things Russian. The word is "medved" in the language of that massive Eastern European country and is also a common surname.
Maestro Fred Devyatkin has chosen three towering Russian composers of the late nineteenth century, Tchaikovsky, Borodin, and Moussorgsky for the Spring Classical Concert. Included are:
Tchaikovsky's Symphony No.6, the 'Pathetique'
Borodin's Polovetsian Dances, and
Moussorgsky's Night On Bald Mountain
These Russian composers stood tall at the gate, casting giant 'bear-like' shadows as they ushered in the twentieth century. They are powerful works, full of intense drama and raw emotion!
The "Pathetique" was Peter Ilyich Tchaikovsky's sixth and final symphony. After returning home from concert tours to France and England, where he was received with great acclaim, he hastily completed this symphony in the fall of 1893. Tchaikovsky himself was on the podium for its first performance in St. Petersburg, Russia; then died just nine days later, under mysterious circumstances! Was it cholera, a scandalous personal relationship, depression induced suicide, or something else? His family chose to remain silent about the cause of death, but this question has kept musical scholars busy speculating for over one hundred years. In fact, Tchaikovsly's brother regarded this work as cathartic, and noted that the composer wept while writing it. He hoped it would help him to regain the emotional stability his life needed, but this was not to be.
There is, however, no question that the Pathetique Symphony is one of intense beauty, longing and pathos. According to Maestro Devyatkin, some of Tchaikovsky's contemporaries complained that the work was 'too sad'. That has never stopped orchestras from around the world from programming this amazing work with regularity, and audiences adore it. More than a century later, it still moves listeners to tears.
Although each of the movements is a musical gem, the second is particularly interesting. It is a waltz, but with the unusual meter signature of 5/4. If it had actually meant to be used for dancing, it would require an uneven number of legs! This meter is also rare in all musical literature, but was used with great success by famed jazz musician, Dave Brubeck in his signature piece, "Take Five".
Aleksandr Borodin and Modeste Mussorgsky, along with three other Russian composers, Rimsky-Korsakov, Balakierev, and Cui banded together and named themselves 'The Mighty Five'. They strived to compose music of a strong nationalistic nature, which would define their beloved Mother Russia with a special sound.
Borodin's Polovetsian Dances are taken from his most famous operatic work, Prince Igor". These energetic pieces are most often programmed as a concert work and are part of the standard repertoire of today's major orchestras. Individual woodwind solos, particularly clarinet, oboe, and English horn make it an especially popular showpiece. A translation of one section of the opera's libretto reads, "Fly away on the wings of the wind to your native land….where you and we were so free"!
A considerable number of twentieth century composers and musicians have fallen under the spell of this music – it is found in the musical, Kismet, borrowed in improvisations by jazz musician Dexter Gordon, and quoted by Warren G in a rap single with a video! What's modern and new is certainly built upon the past!
Modeste Mussorgsky's also tried to establish a uniquely Russian voice in his music. Russian history figures in his most famous works, including an opera, Boris Godunov, the piano suite, Pictures at an Exhibition, and the tone poem, A Night On Bald Mountain.
Despite personal challenges, Mussorgsky's music is filled with musical innovation and brilliance. As a young man from a wealthy family, he had the advantages of music lessons provided at an early age. He chose a military career, which he later renounced, and spent most of his working life as a civil servant. His subject matter often pictured the lower economic strata of Russian life. But he suffered from alcoholism and mental illness, which caused his working life to be uneven and difficult as he spiraled out of control while still in his twenties.
However, Mussorgsky's music is romantic in nature and filled with Russian musical folk melodies – a joy to hear. A Night On Bald Mountain is often described by today's musical critics as a wild and barbaric composition. It's melodies have become familiar to several generations of movie goers through a hugely popular Disney favorite, Fantasia.
Tickets for The Beaufort Orchestra's 'Russian Bears' Spring Classical Concert are $25 for adults, $5 for youth through high school. Call or visit Beaufort Regional Chamber of Commerce, 801 Carteret Street, 843-986-5400, Ext. 34 Beaufort. Remaining tickets at the door if available. www.beaufortorchestra.org.