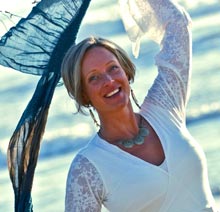 The Threshold Singers of the Lowcountry host a Community Sing/Concert featuring Heather Houston.
 
Pat Keown first heard Heather Houston sing when she attended an international gathering of Threshold Singers in California, just over a year ago.
            "I was so touched by her voice and her spirit," says Pat, "and I thought what a gift it would be to bring her here to Beaufort."
            So that's what Pat and her Threshold Singers of the Lowcountry set about doing. On April 18th, we'll all be able to experience what Pat calls "the beauty of Heather Houston," when she comes to the Port Royal Sound Foundation on Lemon Island for a Concert, Community Sing and Blessing of the Water.
            Acclaimed singer, recording artist, choral director, voice teacher and vocal empowerment coach, Heather Houston has inspired thousands of people worldwide to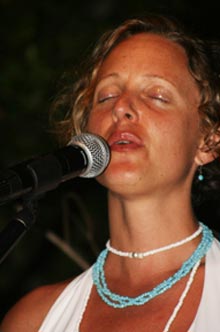 effortlessly open their hearts and sing their spirits free. Born into a family of performers and musicians, Heather has been wholeheartedly singing since the age of three. Gifted with perfect pitch, a full-bodied voice, and a naturally sunny and loving disposition, she has come to recognize her talent as a Divine calling: to help people heal and reconnect with themselves, each other, and the Spirit of Life through song. Heather's ever-evolving passion for singing and service to the world has led her on a joyful path of learning from many of the worlds finest vocalists including Silvia Nakkach, Rhiannon, and Bobby McFerrin. She has gone from singing onstage with John Denver at age six to opening for musical greats such as So Vo So, Sista Monica and Michael Franti with her A cappella quartet SIRENZ. Heather has been an esteemed guest teacher for Silvia Nakkachs' Annual Vox Mundi School Summer Retreats since 2008. She also delights in leading Yoga and Singing retreats in Bali and all over the West Coast.
            "My passion in life is singing, and prayer through my voice," Heather says, "and inviting people to have a similar experience through their singing."
            Rooted near the ocean in Santa Cruz, CA, she leads local and international "Women's Spirit Song" classes and retreats, teaches privately and directs the women's global music choir Yala Lati. Her new album, Prayers for the Water, is a creative effort that connects her to the waters of the world, leading her, she says, to the waters of Beaufort.
            "I live in Santa Cruz, here on the ocean," says Heather. "The project I'm currently working on is all about the water, community, connecting people, and building a sense of reverence about the water. I have yet to see the beautiful waters of Beaufort, South Carolina, and I can't wait. I'm thrilled!"
            Talking about her latest album, Prayers For the Water, Heather says the project felt "divinely orchestrated."
            "I knew I wanted to work with Todd Boston, award-winning guitar player and producer. I thought, 'Okay, I'll just do three songs… make a demo…' But after we were done, Todd said, 'You know what, Heather? We're not just doing a three-song demo. This stuff is so gorgeous, we're going do a Kickstarter campaign and do a full project together."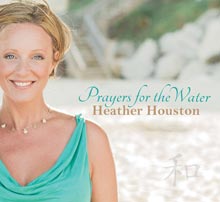 She continues. "It became very clear to me, in a deep meditation one day, that this whole album was to be devoted to the water. The first three songs we'd recorded were for the water, but until that moment, I hadn't even thought about doing a whole album like that. Again, it was divinely orchestrated. For me, singing is the way I express the energy of my devotion… in this case, my devotion to the water. So, we made an exquisite album with Todd playing guitar and me marrying my vocals, my harmonies . . . we added cello . . . flute . . . It's a really beautiful work of art."
            Pat Keown enthusiastically concurs. "Since I received Heather's CD in the mail, I'm sure I've listened to it every day. It touches my heart every time I listen. That's one reason I'm so excited about bringing her here to Beaufort. So many people live here because they love the water. Our waters here are so beautiful and so pristine…"
            In keeping with Heather's passion  – not to mention the mission of the Port Royal Sound Foundation – the Concert and Community Sing will include a Blessing of the Water.
            "We're inviting everybody to bring a small sample from their favorite body of water to the event," Heather explains. "We'll place all the water together, in the center or on an altar, and we'll sing and bless it . . . acknowledging the water for the sacred element that it is on our planet. An element of beauty . . . wonder . . . sacred to our survival. We'll raise our songs in gratitude to the water, then offer it back. It's my intention to inspire people to fall in love with water all over again. I feel such a kindred-ness with your community because you already love the water. I'll be doing a tour of the West Coast later this summer, and I hope to connect these communities on both coasts. Build a bridge. We need to shift our relationship to water, and we can do it together."
            The day before the Community Sing and Concert, Heather will be teaching an OLLI class at USCB from 3 – 4:30 pm in classroom 124 on the Beaufort Campus. Anybody who loves to sing is invited. The room holds 60 people, so show up prior to class to get a seat.
            "Sing the World Awake," a Community Sing, Concert and Blessing of the Water featuring Heather Houston, happens Saturday, April 18th, from 6:30 – 8 pm at the Port Royal Sound Foundation (formerly Lemon Island Marina). It is a gift to the community from the Threshold Singers of the Lowcountry. Contributions of gratitude are appreciated but not necessary. For more information, email Pat Keown at pkeown@embarqmail.com. To learn more about the Port Royal Sound Foundation, visit www.PortRoyalSoundFoundation.com. To learn more about Heather Houston, visit www.HeatherHoustonMusic.com