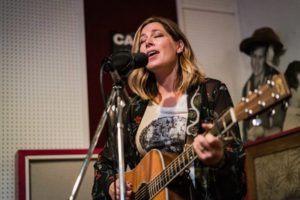 Singer-songwriter Alice Peacock released her latest album Minnesota at the tail end of 2019, just before Covid shut everything down. Recorded in Nashville with producer Phil Madeira (Emmylou Harris, Buddy Miller, The Civil Wars) at the helm and a talented cast of musicians weaving the musical tapestry behind her.
Much has changed for Peacock since her last solo studio album, 2009's Love Remains. She's had three kids, moved to Cincinnati and … gotten 10 years older. "Feel the weight of the world on my shoulders/ Am I wiser or am I just older?" she sings on "Dry Spell," from her new collection. The record suggests that despite her "wondering what all is yet to be," she has indeed attained a measure of wisdom.
Further evidence of this contemplative spirit can be heard on album closer "God Be Near Me,"about which Peacock says, "I wrote a hymn out of nowhere! I was sitting at the piano one day going, 'Am I completely screwing this all up?' And I found myself thinking, 'Help me to stay focused on love.'"
On Minnesota, Peacock explores an understanding of love, in particular, that transcends hearts and flowers, Sturm und Drang. "Resting in the Quiet" acknowledges "a glimpse of the divine" in unspoken eloquence: "We don't have to talk about it/ We don't have to say a word/ We can wrap ourselves in silence/ Cause I've already heard/ Everything your eyes are saying."
"Becoming a mother has made me really value what's important in life," says Peacock. "I've been able to channel that gratitude and a profound never-before-felt love into my music. They say that when you become a parent it's like having your heart live outside your body. I think that's true. I've never felt more vulnerable and wanted to express that vulnerability more!"
The album's title track is a love song to her home state, where her family spends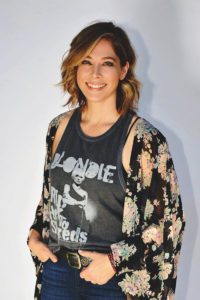 their summers.
"I've lived in Illinois and Tennessee and now Ohio and I love them all, but there's something about home … As soon as I get back to Minnesota and hear the birds and smell the air, I feel, 'This is mine; this is me.'" In the song she recalls sitting in "sacred silence," watching "the electric light show playing wide across the sky."
To date Peacock has released seven albums as a major label and independent artist. Her eponymously titled album Alice Peacock featured the hit "Bliss," featuring John Mayer. Many of Peacock's songs have appeared in TV shows, feature films and TV commercials such as Hershey's product launch of Bliss chocolate.
In addition to touring extensively as a solo artist and with other artists, including John Mellencamp, Aimee Mann, Toad The Wet Sprocket and Heart among others, Peacock has made many TV and radio stops including a special guest spot on the popular radio show A Prairie Home Companion. Besides her musical pursuits, Alice is a socially conscious artist. She is a former trustee of the National Academy of Recording Arts and Sciences (GRAMMYS), former board member of the Nashville Chapter as well as a past President of NARAS' Midwest Chapter. As trustee she testified before the Senate Judiciary Committee with Lyle Lovett on behalf of an artist performance rights for broadcast sound recordings.
During Covid lockdown, Peacock learned how to make skin-on-frame wooden canoes, how to stream concerts from her living room, and that she really enjoys baking sweets.
"Obviously, Covid disrupted all of our lives," she says, "and it was frustrating, on one hand, to not be able to tour to support my Minnesota album. But I also only wanted to be with my family during that time.
"What was annoying (and slightly amusing) to me was that there was such a wealth of feelings going on during the lockdown and, yet, I had complete writer's block. I did about 10 streaming shows from my living room as a benefit for a local homeless non-profit here in Cincinnati and it felt good to contribute that way but mostly I did a lot of cooking, gardening, walking, napping and waiting for the Muse to strike again. I agreed to participate in Real Women Real Songs at the start of 2021 and write a song a week which has been great to get my songwriting chops back up to speed again. I need a deadline and, apparently, structure to create."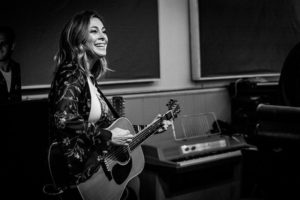 Peacock has plans to make a new album with this creative output. And with performance venues finally starting to open up, she is relishing the chance to reconnect with her audience and share songs from Minnesota and this latest songwriting project.
"I have had two shows in great listening rooms (SPACE in Evanston, IL and Natalies in Worthington, OH) and one private house concert this past month and it has been so lovely to play music again for folks and to feel that energy exchange that only live performance can give. I am almost giddy on-stage and so grateful that we can experience music together again."
Alice Peacock will perform with singer-songwriter Dan Navarro on Friday, October 22 from 8- 10 pm at The Roasting Room in Bluffton. Tickets start at $25. www.roastingroom.live