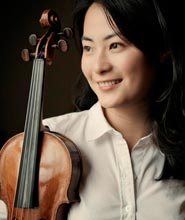 The USCB Festival Series Chamber Music Concerts will soon conclude an exhilarating season of music making. Covering more than 340 years of western music, the performances have ranged from solo to septet, from intellectually rigorous to unabashedly emotional.
The Sunday, April 26, concert will mine rich veins of formal clarity and heartfelt passion with a dash of youthful verve.
         The first composer, Joaquin Turina, set out to create a national style of Spanish music during the early twentieth century. One of his creations was Scene Andalouse for Solo Viola, Piano, and String Quartet. It integrates the warm colors, sultry rhythms, and rich harmonies of southern Spain with melodies that are an Iberian blend of George Gershwin and Richard Rodgers. The solo instrument is not the brilliant, virtuosic violin but the tawny, seductive, more deeply resonant viola.
         Next on the program is the youthful, cultured Felix Mendelssohn's String Quintet, Opus 18. By the age of 16 he had composed 80 pieces, some of which remain concert favorites. The four-movement quintet (string quartet plus viola) was written at age 17 and shows an astonishing grasp of Classical-era fundamentals and Romantic gesture, brought to life through the lens of a meteoric, irrepressible youth. It combines a creamy-smooth exterior with plush depth of sound and puckish charm.
         Ernest Chausson was a sophisticated, hard-working, religious, depressive, late nineteenth-century, French composer who worked slowly and with exacting care. One of his early works, Concerto for Violin, Piano and String Quartet, Op 21, is a symphony-length composition which asks chamber music forces to produce orchestral texture and volume. It is a decadently rich, late-romantic, impressionism-inflected feast for the ears which will close the season in grand style.
         To play this sumptuous music, cellist/host Edward Arron has assembled an elite mix of lowcountry regulars—pianist Rieko Aizawa, violinist Jesse Mills, violist Max Mandel—and newcomers—violinist Hye-Jin Kim (above, left) and dual violinist/violist Ara Gregorian (above, right). Four of the performers are married couples: Aizawa/Mills and Kim/Gregorian. Who better to play alluring (Turina) and explosive (Chausson) music than people in love? Come hear why everyone is raving about the Festival Chamber Music Series.
         Additional information and tickets are available on www.uscb.edu/festivalseries or 843-208-8246, Monday through Friday. The USCB Center for the Arts on 801 Carteret Street opens at 4:00pm on the day of the concert, and the performance begins at 5:00 pm, Sunday, April 26.