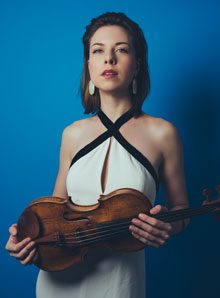 The January 13, 2019, 5:00 pm USCB Chamber Music concert features compositions for three string instruments—guitar, violin, and cello—across eight works: three for solo guitar, one for solo violin, two for cello and guitar, and two for violin and guitar. It traces an arc from old (1735) to modern (1986) and swings from North German High Baroque counterpoint to Argentinian-Barrio Tango, with two stops in Brazil, and one each in Spain, Paraguay, Venezuela. If you are intrigued by the guitar, this concert is for you.
Solo works by J.S. Bach for violin, harpsichord, and cello are some of the most well-known and frequently performed works for those instruments. Guitar may also lay claim to that group: the program begins with Prelude, Fugue, and Allegro, BWV 998, for solo guitar, a work in which Bach's utter mastery of counterpoint is made to sound natural and preordained, as if every note is exactly where it should be. In Hector Villa-Lobos' haunting Cantilena from Bachianas Brasilieras No. 5, the guitar provides accompaniment as the cello plays the floating, wordless, soprano part. Self-taught violinist Georg Philipp Telemann is represented by his three-movement Fantasia No. 1 for solo violin, which reveals the influence of Italian sonatas and concertos and displays his innate understanding of idiomatic violin writing. The first half concludes with music from Spain's Manuel de Falla: Suite Popular Española for violin and guitar. Representing a musical travelogue through the regions of Spain, each of the six songs offers a glimpse into the daily life and eternal concerns of the common people.
The second half opens with music by Radamés Gnattali, a fundamental name in 20th Century Brazilian music. Classically trained as a composer, conductor, orchestrator and arranger,he worked for a living in the popular side of the business. Gnattali's compositions, such as the three-movement Sonata for Cello and Guitar, bridge the gap between concert and popular idioms. Antonio Lauro was a Venezuelan musician, considered to be one of the foremost South American guitar composers. He was a cultural nationalist and Vals Venezolana No. 3 for solo guitar percolates with syncopation and accessible melodies. Agustín Barrios Mangoré was a Paraguayan virtuoso classical guitarist and composer, largely regarded as one of the greatest performers and most prolific composers for the instrument. Vals, Opus 8, No. 4 (Waltz) for solo guitar, sparkles with swagger and nonchalant charm.
The program closes with a four-movement work by Astor Piazzolla, Histoire du Tango for violin and guitar, in which they tell the history of tango in four chunks of music styled at thirty-year intervals. The titles provide a glimpse into tango's earthy, commonplace past to chic, saucy present: Bordello 1900; Café 1930; Nightclub 1960; Concert d'Aujourd'hui.
Leading the charge into this rich trove of music is guitarist Colvin Davin, who has emerged as
one of today's most dynamic young performers. A graduate of the University of South California and The Juilliard School, Colvin (right) tours worldwide in recital and with orchestras, while somehow finding time to teach at the Cleveland Institute of Music. His debut solo recording has been praised as "some of the finest interpretations I've heard…achingly beautiful…a thoughtful, perceptive interpretation, filled with details often missed" (American Record Guide). Violinist Tessa Lark returns to add her brilliant, committed playing. Tessa (top of page) is a rising star and her extensive list of accomplishments continues to grow. She keeps in touch with her Kentucky roots by playing bluegrass and Appalachian music, which should further enhance this program. Cellist and master-of-ceremonies Edward Arron will add his rich tone and impassioned playing.
Support the Arts! This is a can't-miss program that has something for everyone. Don't be left out in the cold. Concert information and tickets, as well as information about the newly launched Endowment, are available on www.uscb.edu/chambermusic or at 843-208-8246, Monday through Friday. The USCB Center for the Arts, located at 801 Carteret Street, opens at 4 pm on the day of the concert, Sunday, January 13.