Tired of sitting indoors, scrolling through seemingly endless "Zoom" events?
Outdoor relief is just a short trip away!
The Lowcountry Community Concert Band will present a concert, "Summer Resounding," at 5:30 pm, Tuesday May 3, in the front courtyard of the Library at the University of South Carolina – Beaufort, on US 278.  Admission is free, but donations are always gladly accepted.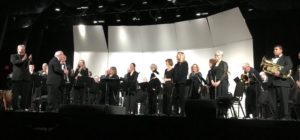 The USCB campus has ample parking, and is wheelchair-accessible.  Bring a chair, bring some friends, bring a cooler!  A food truck will be on hand as well.  Masks are not required at this outdoor event.  (Rain date is Wednesday, May 4.)
The program begins at 5:30 with music by the Lowcountry Flute Choir, followed by the full orchestra at 5:45.
The opening number from Pineapple Poll, a ballet suite based on music of Sir Arthur Sullivan, arranged by Charles Mackerras and W.J. Duthoit;  Earth Song, by Frank Ticheli;  Fanfare for the Common Man, and excerpts from Appalachian Spring, both by Aaron Copland, and both arranged by Robert Longfield;  Brighton Beach March, by William Latham;  Kensington Square, by Carl Strommen;  Salvation Is Created, a chorale composition by Pavel Tschesnokoff, arranged by Bruce Houseknecht;  Summer Resounding, by Brian Balmages;  and concludes with selections from West Side Story, by Leonard Bernstein, arranged by W.J. Duthoit.
The LCCB performs under the baton of Conductor/Artistic Director David Carbone, who has over 30 years of experience in music education and the marching arts as a performer, conductor, educator, arranger and adjudicator, including a 25-year career as a band director and music educator at high school and collegiate levels in Florida, Ohio,  Texas, and South Carolina.  Mr. Carbone holds a Masters Degree in Wind Band Conducting from the University of South Florida, as well as a Bachelor's Degree in Music Education from the University of Miami (FL).  His collegiate teaching experience includes an appointment as visiting professor and interim Associate Director of Bands at the University of Texas at Arlington, where he served as director of the UTA Maverick Marching Band, and conductor of the University Concert Band and Symphonic Band.
 In the spring of 2017, Mr. Carbone was named Artistic Director and Conductor of the Lowcountry Community Concert Band, an affiliate of the OLLI program at the University of South Carolina.
Throughout his career, ensembles under Mr. Carbone's leadership were consistent finalists at Bands of America (BOA) Regional and Super Regional Championships, semifinalists at the BOA Grand National Championships, as well as consistent recipients of superior ratings on the concert stage and in the sight-reading room.  Most recently from 2017-2019, Mr. Carbone served as Director of Bands at May River High School (Bluffton, SC), where he inherited a 2nd-year band program of 26 students.  In two years Mr. Carbone increased band enrollment by over 200% — the band finishing in the "Elite 8"at the Class 3A State Marching Band Championships in 2018, and the wind ensemble receiving superior ratings at concert performance assessment in consecutive years.  Consequently, the May River HS band program was presented the South Carolina Band Directors Association "Outstanding Performance Award" in the spring of 2019, the highest recognition awarded by the state association to a band program annually, and the first time in 50 years that a high school band from Beaufort County received this honor.
In Texas from 2007-2015, Mr. Carbone's wind bands at James Martin High School (Arlington ISD) earned the coveted UIL "Sweepstakes" Award each year, the Wind Ensemble receiving an invitation to perform at Carnegie Hall in 2015, and the Symphony Orchestra recognized as the state's UIL Honor Orchestra "Runner-up" in 2014.  Collectively, the performing arts programs at Martin HS were recognized nationally, receiving the GRAMMY Foundation "National Signature School" Award in 2009.
Prior to Texas, his marching ensembles at Bellbrook HS won two BOA Grand National Championship titles — one each in Class A and AA, respectively.  Additionally, the Indoor Percussion Ensemble earned the Bronze Medal at the WGI Percussion World Championships in the scholastic open division in 2006.  In the same year, the Bellbrook HS Wind Symphony received a Superior rating at the Ohio Music Educators Association State Concert Festival, the first in the school's history.  In Florida, Mr. Carbone taught at Plantation and East Lake high schools, earning consistent Superior ratings in marching and concert band assessments at both programs.
 Although he "retired" from public education in the summer of 2019, Mr. Carbone maintains an extremely active schedule as an advocate for music education locally, and as an adjudicator for Music For All , Bands of America, and Drum Corps International, and as a band consultant and guest conductor nationwide.
Mr. Carbone resides in the Hilton Head Island area of South Carolina with his beautiful wife Carrie, son Beckett, and daughter Jordan, along with his three dogs — Daisy, a Shih Tzu mix, and his two Bassett Hounds Owen and Leo.
Deborah Hamner, our Associate Conductor, was born in Bowling Green, OH, but spent most of her life in Owosso, MI.  She was involved year-round in church, Bible Quiz, sports (volleyball, track and basketball) and band.  After graduating from High School, Deborah attended Michigan State University, majoring in Music Education.  After one semester of college she joined the Marine Corps as a clarinet player.  She was stationed in Okinawa, Japan; Camp Lejeune and Cherry Point, NC;  and Parris Island, SC.  She also attended the Ceremonial Conducting / Drum Major Course in Virginia Beach, VA.  After 6 years of playing clarinet Deborah became an Enlisted Conductor, and conducted for hundreds of thousands of people at Recruit Graduation Ceremonies at Parris Island, the Outback Bowl in Florida, as well as performances in Guam, Australia and New Zealand, and throughout the Southeast.  In 2005 she received the Staff Non-Comissioned Officer Musician of the Year Award, based on her performance as a clarinet player, conductor, and leader throughout her time in the Marine Corps.  In 2009-2012 she was a recruiter for the 6th Marine Corps District.  During this time she travelled through the southeastern United States, musically approving any musician interested in joining the Marine Corps Music Program.
Mrs. Hamner retired from the Marine Corps as a Gunnery Sergeant and began her teaching career at Bridges Preparatory School in 2015 as a Band Director and Music Teacher.  Since January 2020 she has been teaching Band, Music Appreciation, and Piano at May River High School.  She and her husband Jaime have two daughters, Danielle and Nicole.
The LCCB is sponsored by the Osher Lifelong Learning Institute (OLLI) at the University of South Carolina – Beaufort. The LCCB provides an opportunity for musicians of all ages and abilities to play instrumental music together for enjoyment as well as to perform for the community.  Any OLLI member is welcome to join.  Students and adults of any age can also join the band.  The LCCB is 100% self-sustaining, and receives no state or local funding.  Donations are welcome, and are used for buying new music and equipment, repairing instruments, and rental of venue space for performances where required.  For further information, visit our LCCB website, at www.ollilccb.com, and click on the "Donate" tab.