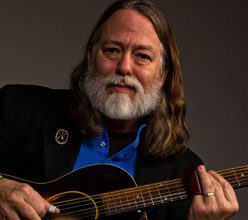 Scott Ainslie will perform at Music on Malphrus, 110 Malphrus Road, in Bluffton,  Saturday, Nov. 23, at 7:00 pm. General Admission is $20. Doors open at 6:00 pm.
Scott Ainslie's mother found him at the family piano picking out melodies from the records she listened to during the day when he was three years old. He's been a musician all his life.
Coming of age during the Civil Rights era (and subsequently seeking out elder masters of the Appalachian Old-Time, Black Gospel and Blues traditions he has received), Ainslie plays this music with affection, authority, and passion. 
Armed with three or four instruments – vintage guitars, a fretless gourd banjo, a one-string, homemade diddley bow (aka cigar box guitar) and carefully chosen historical personal anecdotes of his encounters with senior musicians across the South – Ainslie brings the history, roots music, and sounds of America alive. 
On stage – in educational teaching concerts, workshops, and school residencies – Ainslie explores the African and European roots of American music and culture. His interactive way with audiences and cross-disciplinary approach to the music consistently garners rave reviews from presenters, audiences, students, and teachers, alike. He is a masterful and thoughtful historian, storyteller, and musician.
Ainslie 'wrote the book' on Mississippi Delta Blues legend Robert Johnson (Robert Johnson/At The Crossroads, Hal Leonard, 1992); has an instructional DVD on Johnson's guitar techniques and songs; along with six CD recordings available through CattailMusic.com. 
His most recent recording, "The Last Shot Got Him," is a collection of songs played on a 1934 Gibson archtop that has received strong reviews from listeners and critics, and among other honors, was chosen as Best Album of the Year by the Times-Argus (Montpelier, VT).