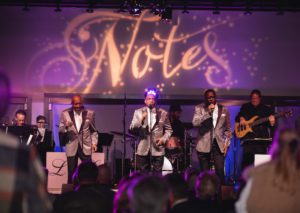 Looking for a truly unique holiday gift for that special someone in your life? How about a magical night of dancing to live music performed by Motown royalty?
The Voices of Classic Soul will be in Beaufort in early January for the Boys & Girls Clubs' annual fundraising gala, Notes, performing with crooner Landau Eugene Murphy, winner of America's Got Talent. For several years, Murphy has thrilled gala attendees with his elegance and Sinatra-esque charm, selling out every event. To attend Notes, you must purchase a table for 8 or more. These sponsorships are still available, but limited.
What's new and exciting this year is that the Boys & Girls Club is adding a second night of music! This extra night – happening on Thursday, January 12 – has been dubbed the Motown Dance Party, and will feature the Voices of Classic Soul. For a donation of $75 to the organization, you can secure your spot on the dance floor!
"Beaufort fell in love with the Voices of Classic Soul during last year's Notes event, when they performed with Landau Eugene Murphy," says Kim Sullivan, Director of Resource Development for the Boys &B Girls Clubs. "When we discussed providing an additional evening of music with their manager, it was an immediate YES!"
The Voices of Classic Soul have been around the world and back again several times each as the lead singers of four of the most legendary vocal groups of all time: the Temptations, Platters, the Four Tops, and Drifters. The three singers have a back-story right out of a Hollywood movie; Joe Coleman, Joe Blunt and Theo Peoples grew up singing together in church and on street corners throughout the 1960s before finding fame and fortune separately, then reuniting after 30 years to harmonize together once again.
Joe Coleman joined the Platters for a two-decade stint as the group's lead singer in addition to gaining a successful career as a songwriter and playwright. Joe Blunt performed and recorded with the Drifters for over a decade in venues all over the world alongside Ben E. King and Johnny Moore, earning a Lifetime Achievement Award from Sony Records. Theo Peoples was discovered and hand-selected to join the 'Temptations' group in 1992 and made Motown history by becoming the first musician to be in both The Temptations and The Four Tops.
Motown Dance Party attendees will be treated to incredible showmanship, classic dance moves, and some of the biggest hits of all time, including "My Girl," "The Way You Do The Things You Do," "Get Ready," "The Great Pretender," "Only You," "Smoke Gets In Your Eyes," "Under The Boardwalk," "On Broadway," "Save The Last Dance For Me," and many, many more.
Boys & Girls Clubs supporters are hoping to introduce more Beaufortonians to their cause with this extra night of music. Kim Sullivan says, "It is our hope that guests will have an amazing night of Motown and learn more about the mission of the Boys & Girls Clubs, the benefits of these programs and services to the youth in our community, and how donations are used to support these programs."
For a donation of $75 per guest, you'll enjoy an evening of dancing, along with delicious appetizers and beverages, while benefitting a great cause – the Boys & Girls Clubs of Northern Beaufort. To reserve your space, visit https://secureonlinegiving.com/events/site/index.asp?eventID=2375
Want To Go?
What: 'Motown Dance Party' with Voices of Classic Soul
When: Thursday, January 12, 2023 from 7-9pm
Where: Tabby Place, downtown Beaufort
To Benefit: Boys & Girls Clubs of Northern Beaufort
Admission: Donation of $75
Reservations: https://secureonlinegiving.com/events/site/index.asp?eventID=2375