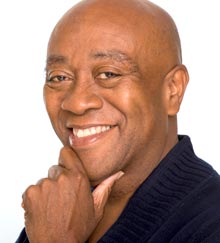 What a wonderful finale to Beaufort Symphony Orchestra's 2013-2014 season! A concert filled with some of the most romantic music ever written, played to perfection by our orchestra, and some of the most beloved show tunes of our time masterfully interpreted by Savannah's Roger Moss.
Maestro Frederick Devyatkin has combined the musicians, the voice and the music to give us a night of truly remarkable entertainment that will make your heart beat a little faster and your hand hold a little tighter to the one you love.
Roger Moss popular on Savannah music scene
Roger Moss is a well-recognized member of Savannah's jazz, blues and gospel music scene and his rich baritone voice has garnered many awards. He and Devyatkin agreed that a medley of beloved tunes from Porgy and Bess by composers George and Ira Gershwin would be a lot of fun, but decided not to stop there. "As long as we were on a Gershwin kick we didn't want to leave any of the great classics out," said Devyatkin. So they also added a few more great songs like, "Lady Be Good," "I Got Rhythm," "Embraceable You," and "Fascinating Rhythm," all with new original arrangements written for Moss' warm and easy delivery by the orchestra's own Bill Baker. Moss will also perform "What I Did for Love" from A Chorus Line, and the theme song, "More" from the movie Mondo Cane. Says Moss, "Singing is like breathing to me and if its music that I love, I just go with it!"
Orchestra's selections fun, exciting and romantic!
Orchestral selections include one of the single most appealing tunes in operatic history, the Intermezzo from Pietro Mascagni's "Cavalleria Rusticana," composed in 1888. This orchestral interlude of intensely dramatic music was inserted in the opera to denote the passage of time and became an instant hit. And the romance to end all romances, Shakespeare's Romeo and Juliet, served as the inspiration for Peter Tchaikovsky's 1880 symphonic poem, "Romeo and Juliet Overture – Fantasia." Something added "just for fun" is the "Thunder and Lightning Polka" composed in 1868 by Johann Strauss. With its appropriate effects from timpani rolls, cymbal crashes and drums, Strauss clearly sought to amuse as much as compose a successful piece of music. Rounding out the orchestral selections will be music from the blockbuster movie, "Titanic" and the stage and screen classic, "My Fair Lady."
Mark your calendars for 2014-2015 Season!
To usher in our new 2014-2015 season we'll take a "Journey to Austria" on October 16 and 19, 2014, featuring the music of Mozart and Beethoven. Our traditional "Holiday at the Pops" will welcome the holiday season on December 4 and 7, 2014. "Classically Romantic" on February 26 and March 1, 2015 will feature Mendelssohn and Tchaikovsky, and our fourth and final concert will feature music from ballet to Broadway in "Let's Dance" on May 7 and 10, 2015.
Get your tickets for "Amour Amour" today
All tickets are $37.50, reserved seating for both Thursday night, May 1, at 7:30 p.m. and Sunday, May 4, at 3:00 p.m. Go to www.beaufortorchestra.org for a seating chart and to order online, or call 1-800-595-4849. Tickets are also available at the door one hour prior to curtain at USCB Center for the Arts at 801 Carteret St., Beaufort, SC.
This concert is funded in part by the South Carolina Arts Commission which receives support from the National Endowment for the Arts.